Red Bull hope to overturn Daniel Ricciardo's Australian Grand Prix F1 disqualification
FIA Court of Appeal hearing was held in Paris on Monday
By Sky Sports Online
Last Updated: 14/04/14 4:48pm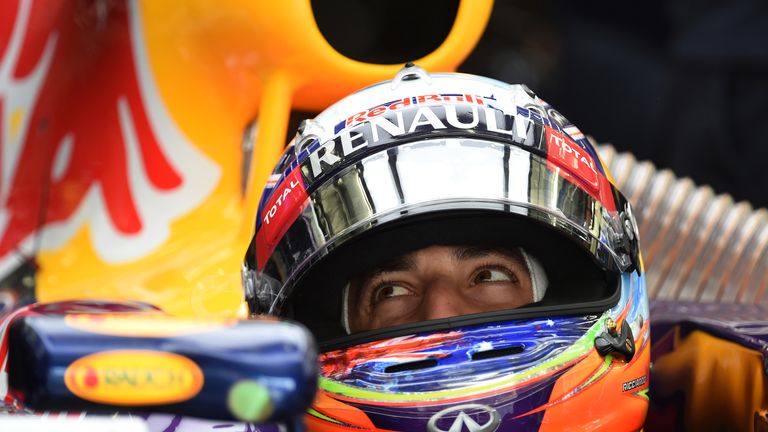 The FIA's International Court of Appeal will meet in Paris to decide whether or not to reinstate Ricciardo's second-place finish in Melbourne.
He was stripped of his place after the team were found guilty of breaching a new regulation which states that fuel flow must not exceed 100kg/hr.
A reinstatement would be worth 18 points which would lift the driver into third spot in the championship, albeit 31 points behind leader Nico Rosberg and 20 back from the German's Mercedes team-mate, Lewis Hamilton.
It would also propel the team into second place in the constructors championship, 38 points behind runaway leaders Mercedes, ahead of next weekend's Chinese Grand Prix in Shanghai.
Red Bull team principal Christian Horner said: "Those points are vital, every point is vital.
"We believe we've a very strong case. As more races have progressed issues have become more evident, new evidence has come to light, new understandings have come to light.
"Hopefully we can present our case fairly and get the second place Daniel deserves from Melbourne."
The argument centres on F1's new 100kg fuel limit and specifically the sensors introduced to measure fuel flow to the 1.6-litre turbo hybrid engines now used.
The sensor on Ricciardo's car gave inaccurate readings but Red Bull chose to ignore the FIA's request to reduce fuel flow during the race.
The World Champions claim the rule relating to the fuel sensor is unclear, and that a technical directive outlining a back-up should it prove inaccurate - which Red Bull ignored in favour of their own data - does not form part of the regulations.
It is a point FIA Technical Director Charlie Whiting cannot dispute, but has always believed the teams have taken it as read such directives should be followed.
Whiting said: "Technical directives are opinions - and always have been - given by the technical department to the teams.
"Normally they have been happy to follow them, although it's always been clear they can be contested in front of the stewards.
"For years it's been like that. They've been contested probably five times.
"It's right to say they are not regulations, but they are there as the opinion of the technical department, and that is how most teams feel the sport is run."
Red Bull insist Ricciardo's car kept to the correct fuel flow in Melbourne, saying the faulty FIA sensor wrongly showed it broke the limit.
"I think we need to look at a more robust system," Horner said as the controversy rumbled on into the second race of the season in Malaysia last month, adding that he had raised his concerns with technical officials.
"In many respects I think personally it would be easier to get rid of it and just say, 'You've got 100 kilos, use it how you like but that's all you've got'."
Ricciardo, 24, has endured a roller-coaster start to his Red Bull career after replacing fellow Australian Mark Webber at the world championship-winning team.
His Melbourne disqualification was followed by a retirement in Malaysia where he also received a 10-place grid penalty for the third round in Bahrain.
At the Middle East track, he qualified third, started in 13th spot due to his Malaysia rap before storming to a fourth-place finish, just missing out on a podium place.
"It was an awesome race; it was exciting," said Ricciardo, whose world champion team-mate Sebastian Vettel managed just a sixth-place finish.
"We got close to the podium, I think within half a second, so I was doing all I could. The car came to me as the race went on and I was happy with how I moved up through the pack."