Mercedes' Nico Rosberg adamant 'dossier of data' was just standard practice
Nico focused on this weekend and next installment of Hamilton fight
By James Galloway in Shanghai and Pete Gill
Last Updated: 18/04/14 1:35am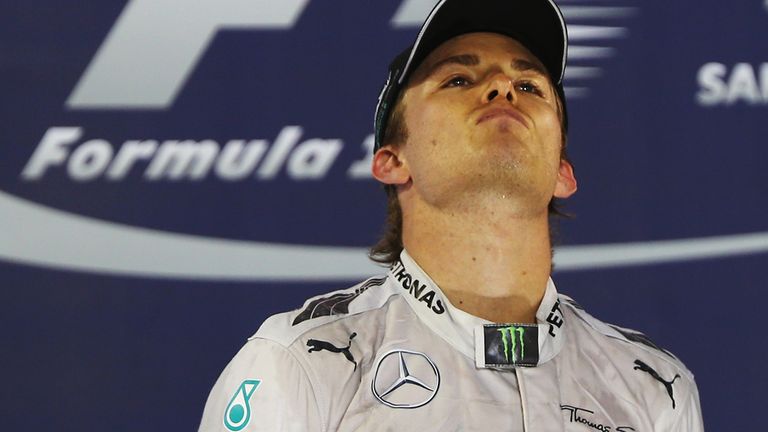 Rosberg was soundly beaten in Malaysia, crossing the line a distant 17 seconds behind his victorious team-mate, but was arguably the faster driver less than a week later when only Hamilton's dogged and determined defence denied him victory in Bahrain.
Speaking afterwards, Hamilton told The Daily Mirror: "Someone in the team did a huge study on my pace in Malaysia. And since I arrived in Bahrain, Nico had a big document of all the places I was quick and used that to his advantage."
However, Rosberg is adamant that his pre-race homework remains standard practice at Mercedes.
"It's completely natural to review a race and it's not any different now," said Rosberg. "Again, I've reviewed Bahrain, tried to learn from it, pick out the good bits, try to work out what I can do better.
"It's always the same and just before Malaysia there wasn't the same opportunity because I was the only one in the race at Melbourne [Hamilton retired on the third lap]."
In the wake of his narrow win in the desert two weeks ago, Hamilton himself admitted that he would be studying his team-mate's telemetry ahead of round four in a bid to improve his own performance at Shanghai.
"A lot of the advantages that I had in the last race Nico found them as we came here and applied them and did even better, so I've got to go now and find out what he did better than me and see if I can improve for the next race," the 2008 World Champion said.
As well as being long-time neighbours in Monaco, Rosberg and Hamilton's friendship stretches back to boyhood when they first raced against each other in karting.
Rosberg was overheard berating Hamilton for a strong-armed manoeuvre as the Englishman successfully defended his lead in Bahrain and says, that while the incident has generated excessive attention, the two drivers will be discussing the details of their titanic duel before this weekend's Chinese GP.
"The majority was tough but respectable, so let's go with that, rather than pick out one small example," said the German when questioned about his radioed complaint to the Mercedes pitwall.
"It is completely normal for teams after races where a lot has happened that you sit down and discuss what has happened and we will do that - we are going to do that today.
"But it's a very normal process which has to happen so you can understand what has happened and move forward."
Rosberg and Hamilton's duel in Bahrain has been billed as the 'race of the century' but for the two protagonists, it was familiar territory.
"This is not the first time that Lewis and I have had a battle on the track and not the first time that it was very close!" laughed Rosberg. "This has been going on since we were twelve or thirteen years old. Even the discussions can be intense but we always moved on afterwards with the necessary respect."
With the Mercedes W05 reckoned to be one second a lap quicker than its nearest challenger, the stage is set for another close battle between the team's drivers this weekend.
"Bahrain is completely gone and I'm fully focused," added Rosberg. "I know I can win here and that is a huge elevator. And I know that it [the fight for victory] is most likely against Lewis and that is where my head is right now."
Sunday's race, exclusively live on Sky Sports F1, starts at 8am UK Time.