Lewis Hamilton credits his crew and his car for winning start to 2014 season
"I'm in the happiest mood that I can remember," beams the Mercedes driver after completing first hat-trick of his F1 career in China
By Pete Gill
Last Updated: 24/04/14 11:05am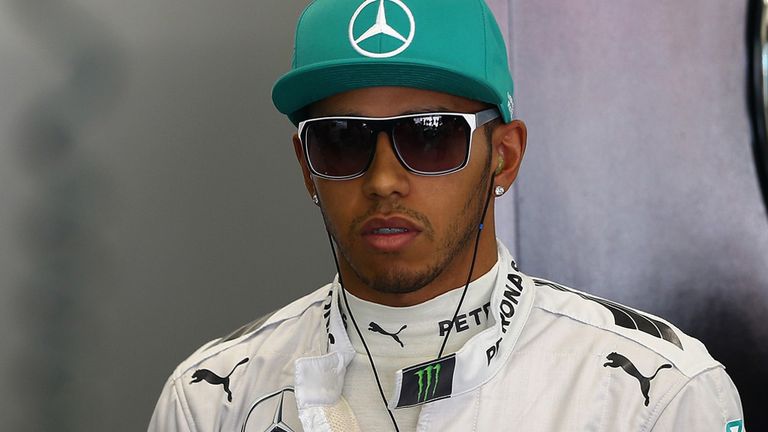 Hamilton completed his third successive victory on Sunday in the Chinese GP as he closed the gap to World Championship leader - and Mercedes team-mate - Nico Rosberg to just four points in the standings.
They say that behind every great man is a great woman. In the case of Hamilton, it's a great car and a great team which stands directly behind his great run of form with the three-way relationship between car, driver and team working in perfect harmony at the dawn of F1's new turbo era. The value of that relationship was never more apparent than in Shanghai, when Hamilton blitzed the field after determining - in conjunction with his 'brains trust' inside the Mercedes team - a series of Friday night set-up changes to the W05 that paved the way for what he later termed "one of the best races of my career".
"I really couldn't do this without all the hard work from the team, it's incredible. Honestly, I just can't believe how amazing the car is, and how hard everyone has worked," said Hamilton afterwards.
"We made lots of changes overnight on Friday night and obviously it was wet for qualifying so I didn't know what it was going to be like for the race. And really just that hard work, sitting down with the engineers. We didn't guess, we really made those steps in anticipation for the race and it worked perfectly. I couldn't really have asked for more."
Not that the relationship between Hamilton and his crew of engineers is always sweetness and light - especially after the frustrated driver spent Friday's practice sessions in Shanghai on the backfoot with his car bedevilled by understeer.
"Things looked pretty dodgy on Friday, to be honest, and he was ranting and raving - and understandably so because the car was nowhere by our standards," Jock Clear, Hamilton's senior race engineer, told Sky Sports F1.
"Nico looked like he was ahead of us on Friday and he's the competition, so we had a lot of work to do and he wasn't happy. But from lap one onwards in the race he was happy, said the car felt great and was always giving us great feedback. It couldn't have gone better."
Barring the technical failure of a small component buried deep in his W05 which triggered the Englishan's retirement from the season-opening Australian GP, 2014 itself couldn't have gone any better for Hamilton with many trackside observers believing him to be in the form of his life.
"I've always said that a happy Lewis Hamilton is a virtually unbeatable driver and he's in the sweet spot right now," wrote Sky F1's Martin Brundle in his latest column for the website. "Devoid of any kind of apparent trackside entourage, clearly happy with his life and work, he's chin up, smiling, approachable, and delivering."
Such is the rapport which Hamilton has built up with his crew of engineers and mechanics that, whereas in the past he has seemed most comfortable when surrounded by a posse of friends and family, he has felt able to thin down his entourage to a bare necessity in China and Bahrain.
"For the last couple of races, I said I was happy with just my trainer so I can chill," he told The Daily Telegraph. "I don't need many people here. The only thing I am focusing on is the race, so I am trying not to have too many people around me. You give your time and energy to friends and family but, at the moment, I am spending all my time with the engineers."
And doing so to winning effect with Hamilton's form on track mirrored by his mind-set off the tarmac.
"I'm in the happiest mood that I can remember," the Englishman added. "It's where I am in my life, family, girlfriend, all things, where I live, everything, having the right people in place, management, being in the right team."
The mirror-image of mood on and off the track begs a chicken-and-egg conundrum; has the happiness of Hamilton's private life made for a successful driver in the public domain or has a successful driver made for a happy Hamilton? The two characterisations are unlikely to be mutually exclusive. But perhaps there's one ingredient above all which has shifted Hamilton's outlook: the possession of a winning car.
"My engineers are just fantastic and we're really pulling together. We're not thinking, 'We won the last race, let's chill this weekend', we're working even harder the next time and there's more things we've uncovered setup-wise. I'm constantly learning through the year, physically feeling even better, mentally I feel strong, and I owe that to the team.
"Of course when you are winning, it's great. We're not getting complacent, we're just keeping our heads down and trying to improve the car even though the car is amazing. I feel like I am growing with the team and growing with the car, and with my understanding. This year, I am so much more comfortable with the car and that's what you are seeing in the results."
With car, team and driver currently working as one, Hamilton's winning package looks to have all boxes ticked.