F1 remembers Ayrton Senna on the 20th anniversary of the Brazilian legend's death
Stars of past and present pay tribute to a driver whose legacy lives on
By Pete Gill and James Galloway
Last Updated: 01/05/14 4:00pm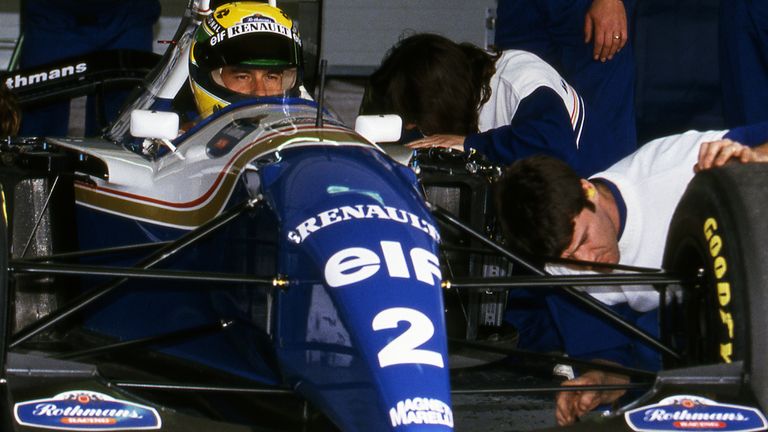 The three-times World Champion, the most famous driver of his age and revered by many as the greatest F1 has ever seen, was killed at the age of 34 when he crashed out of the 1994 San Marino GP at Imola.
Famed for his speed, admired for his passionate devotion to the art of winning, and elevated to the status of an icon by his magnetic charisma, Senna's death saw an unprecedented period of mourning both in his homeland and across the F1 spectrum as the sport grappled with the sudden loss of its brightest star.
Senna's death, a day after Austrian driver Roland Ratzenberger also perished, triggered a raft of safety changes in the sport and saw the Imola circuit subsequently transformed before it was dropped from the schedule at the end of 2006.
Yet it is not only through F1's improved safety record in the 20 years since his death that Senna's legacy lives on. For a generation of drivers brought up in an era he dominated both before and after his tragic accident, Senna both represented - and remains - an inspiration without equal.
"When I was a kid I had all the books, all the videos, he was the driver I looked up to, way before I even started racing," said Lewis Hamilton in Shanghai.
"An incredible legend; you can still learn things from how he approached racing and how he drove. You like to think that one day you may be recognised as someone that was able to drive similarly to him."
Two-time World Champion Fernando Alonso was among those who attended a memorial service at the Imola circuit in northern Italy on Thursday and the Ferrari driver was equally effusive in his tribute to the Brazilian at last month's Chinese GP.
"Senna is a benchmark for all drivers, the best of his generation," declared Alonso.
"He was an inspiration. I remember some of the races that we could see in the news in Spain, because we didn't have the TV coverage of Formula 1, but I had a big poster of Ayrton and even my first go-karts were in the colours of Ayrton's McLaren because my father also liked him."
Senna's former Team Principal Ron Dennis, who oversaw all three of the Brazilian's world championships, described his former driver as having "unique" abilities.
"He raced for me for six years and won over one in three races together, so we did a lot of winning together, a lot of living together both on and off the track," the McLaren CEO said in 'A Winning Partnership' which will air on Sky Sports F1 at 7pm on Thursday night.
"Ayrton was really dedicated to being an outstanding athlete - he got that, that made him better. Anything that gave him an advantage he would work at it. His focus, his determination, his sacrifice...and then he had the natural talent and that uniquieness of being at one with the car."
Red Bull's Adrian Newey, who was Williams Technical Director when Senna joined the Grove team in 1994, said: "His character was very, very driven I think, more than anything. He was interested in all angles of the car.
"I remember very clearly when he started at Williams, he wanted to come over and look at the wind tunnel model, see what we were doing, understand our development areas and what our philosophies were. And that's partly out of curiosity, but I think it was also so that he knew what our thinking was and he could try to understand that, so that when he drove the car he would have a better knowledge of it, and be able to give better feedback."
But perhaps it was Nico Rosberg, speaking to the sport's official website, who put it best as he opined: "If you think about Formula 1 you think about Ayrton Senna - and vice versa. He was one of only a few who have shaped our sport."
More on Ayrton Senna:
Senna's career in profile.
Senna's career in pictures.
Your memories of May 1 1994.
Where are they now? The Imola 1994 grid.
Podcast: Senna Journalists Special.
Video: Ted's Senna Notebook.
Video: The Last Team-mate.