Spanish GP Paper Review: Mercedes' routed rivals and the F1 'show' under scrutiny
Fleet Street on the headaches for Ferrari, McLaren - and Rosberg
By James Galloway
Last Updated: 12/05/14 4:11pm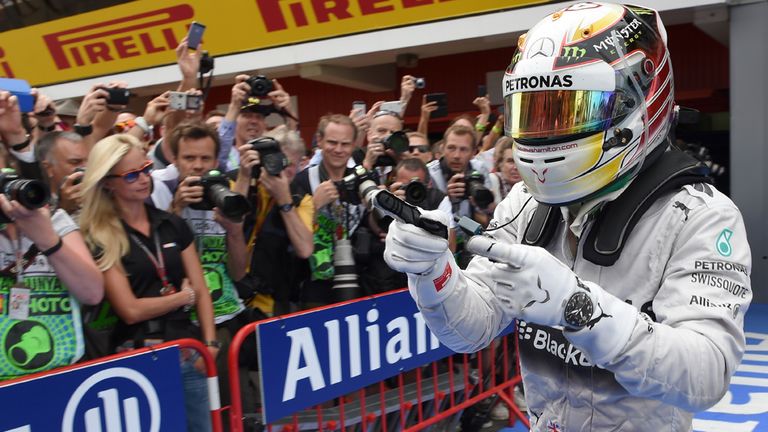 Having made the joint-best winning start to a season since McLaren's crushing 1988 campaign, when the Woking outfit failed to win just one of that campaign's 16 races, Mercedes are already 113 points clear in the Constructors' Championship and their two drivers a long way ahead in the drivers' standings.
In contrast, while Red Bull have seen their winning run come to a juddering halt, the Spanish GP brought up uncomfortable milestones for F1's two long-established standard-bearers, Ferrari and McLaren. The Italian marque, lapped on Sunday, have now failed to win a grand prix for a full calendar year while the latter failed to score points for a third consecutive race for the first time in five years.
'Some people questioned Hamilton's move from McLaren to Mercedes for 2013,' Jonathan McEvoy wrote in The Daily Mail. 'However, he rightly detected their potential as a 'super team' in embryo. McLaren, on the other hand, had lost Mercedes as partners and had not then done a deal with Honda - an arrangement that comes into effect next season.
'The disparity between Mercedes and McLaren was clear yesterday as Jenson Button and Kevin Magnussen were lapped comprehensively. That is intolerable for a team of McLaren's stature. Ferrari also suffered, with Kimi Raikkonen being lapped. They were at least saved from the further humiliation of Fernando Alonso suffering the same fate on his home track in front of his adoring fans.'
While Kevin Eason suggested in The Times' that McLaren, who have slipped to a lowly sixth in the standings, 'are a team sliding gently towards the abyss of mediocrity', The Guardian turned its focus on the potential thoughts going through lead driver Jenson Button's mind right now.
'There were no positives for McLaren. After winning two podium places in the first race in Australia, they have now failed to score a point for three races in a row, and that has not happened for five years,' Paul Weaver wrote. 'This was also the first time since 2008 that Jenson Button had not scored a point in three races. He must wonder what would have happened if he had remained at Brawn, which became Mercedes.'
But it isn't only the chasing pack which are being hurt by the Mercedes duopoly at the front of the 2014 grid, according to The Times, after race promoters arrived at Barcelona to air their concerns over the sport's spectacle.
'Bernie Ecclestone...was faced with a phalanx of race promoters from 17 nations, who travelled to Barcelona to air their grievances and register what they described before the race as concern about "maintaining the unique feeling of Formula 1" - whatever that means,' the newspaper reported.
'Their chief worry is putting bums on seats and, much as Hamilton is displaying a rare and exotic talent by winning four races in a row, culminating in victory in Barcelona, such dominance is the stuff of nightmares for the impresarios trying to shift thousands of tickets to fans growing increasingly weary of F1's curious capacity to put on a show that sometimes could be marketed as an alternative to Valium.'
And while he may currently occupy one of the two must-have machines on the grid, it's the seemingly impregnable presence of Hamilton on the top step of the podium which is causing Nico Rosberg headaches of his own.
'Psychologically this was another bruising day for Rosberg who, despite all his efforts in the final 10 laps, came up less than a second short. After Hamilton's dominant drive three weeks ago in China, a locked tyre here and there, or a backmarker at an inopportune moment were the fractions that separated these two in Spain,' declared Daniel Johnson in The Daily Telegraph.
'With Mercedes out of sight...all the omens are there for Hamilton. He is winning in places where he has never stood on the top step of the podium before, and on occasions when he claims to have been the slower driver.'