Lewis Hamilton becomes his own man in proving decision to join Mercedes was right
Championship leader reveals his father told him to stay at McLaren; Lewis dismisses comparisons to Vettel's domination; Compares his own upbringing to Rosberg's 'privileged' background
By Pete Gill
Last Updated: 24/05/14 11:45am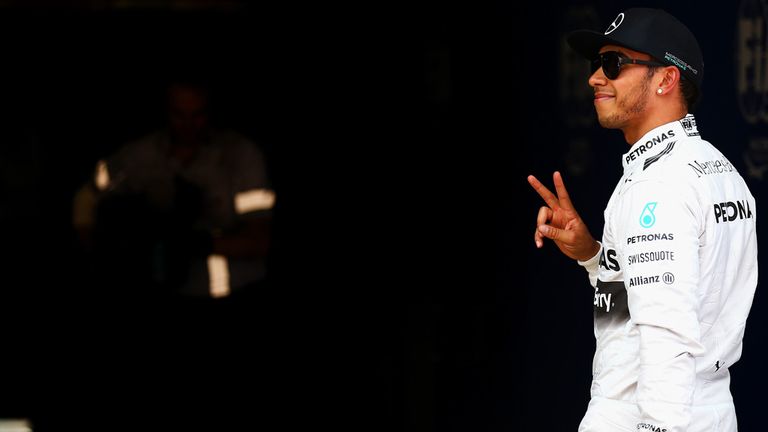 Almost 20 months on from Hamilton's bombshell transfer out of the team which had nurtured him through the entirety of his motor-racing career, it's easy to forget the level of shock generated by his decision to uproot to Mercedes.
Logically, it defied all sense; why leave a team of seasoned winners for an outfit which had, at the time he put pen to paper, won just a single race in three undistinguished years? Jenson Button, his then McLaren team-mate, spoke for many as the voice of bewildered reason when he opined: "It is his decision, although I personally don't think it is the right decision."
But that was then. Results since - with McLaren without a victory since 2012 and Hamilton claiming four in a row this season alone to take the lead of the World Championship in the all-Mercedes contest against team-mate Nico Rosberg - have proven Button and the sceptics wrong and Hamilton's decision entirely right. Yet the rights - and erroneously perceived wrongs - of the move run far deeper than that. Part gamble, part gut instinct, Hamilton's defection was as much about coming of age by flying the family nest - both in terms of leaving McLaren and ignoring the advice of his father, and long-time manager, Anthony - as it was about securing a better car for an uncertain future.
"The move to Mercedes was my own decision," Hamilton reminisced to the official F1 website. "There wasn't one single person around me that influenced me. There wasn't my dad telling me I have to go here - my dad told me to stay at McLaren - there wasn't my brother nor my mum - no one. I did it on my own - and that's why it is even more satisfying to know that I've finally grown up and made the decision.
"Whatever the case might have been - even if we weren't having success - I would stand by my decision because the team feels fantastic."
It always does when it is delivering a winning package. Although Red Bull and Ferrari are expected to challenge Mercedes' 2014 domination around the mean streets of Monte Carlo this weekend, the W05 has emerged without peer at the dawn of the sport's new turbo era - leaving Hamilton in a no-holds-barred dogfight with Rosberg for the title. Twice this season, at Bahrain and two weeks ago in Spain, Hamilton has defied his team-mate's apparent superior pace to hang on for two seminal victories which prompted one German newspaper to question whether Rosberg was 'too soft' to win the title. If the 2014 World Championship fight ultimately boils down to a battle of strength, Hamilton's determination to flex his muscles is stark - and, he claims, deeply grained.
"Let me tell you this: I come from a not-great place in Stevenage and lived on a couch in my dad's apartment - and Nico grew up in Monaco with jets and hotels and boats and all these kind of things - so the hunger is different," said Hamilton pointedly.
"I want to be the hungriest guy in the cockpit from all 22 of us - even if every driver has to believe that he's the hungriest - because if I were to come here believing that Nico is hungrier than me then I might as well go home. So I've got to be the hungriest - to win the world championship you need to be the hungriest."
A cynic might also opine that the grid's fastest car may come in handy as well. Only six months ago, in the midst of Sebastian Vettel wrapping up his fourth consecutive title with nine successive race victories, Hamilton told reporters that he wouldn't want to win in such dominant, runaway fashion. In the wake of the Englishman's own two-month winning streak, those remarks have resurfaced for mischievous effect, yet the Mercedes driver is comfortable that his own current supremacy is of an altogether different ilk.
"Even if we are a dominating team, I don't beat my team mate by 40 seconds," Hamilton countered. "Take the last race - it was six-tenths between us at the flag, which hasn't been often the case with the winner in the past four years. I want to be known for racing."
Nor does Hamilton's four-race domination stand up to prolonged comparison to the four years of title doubles for the Red Bull-Vettel double act. In a different decade, and with a different team, Hamilton's solitary championship in 2008 seems like a lifetime ago.
"To be honest it feels like such a long time ago that I don't really remember, so it feels fresh and new this year. It feels unknown. So even though I had the experience before, I really don't remember it much. When I won the championship I was pretty much used to winning championships, as I'd won championships in previous years. Now, though, it's been several years since I won the championship - and it feels brand new."