Daniel Ricciardo doubts he will get as close to a Mercedes at the Canadian GP
Having had a Silver Arrow in his sights in Monaco, Australian concedes they'll probably power away again in Montreal
By Mike Wise
Last Updated: 26/05/14 3:22pm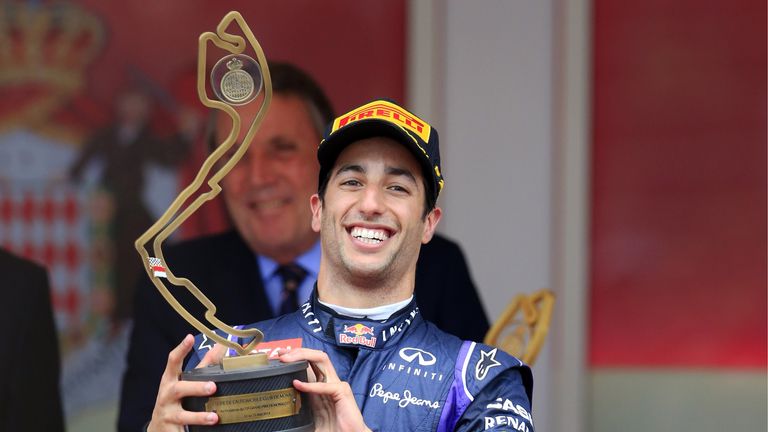 Ricciardo continued his impressive run with a second straight podium finish after closing right up to Lewis Hamilton's Silver Arrow towards the end of Sunday's 78-lap race.
That the 24-year-old was actually within sight of a Mercedes - Ricciardo finished 50 seconds behind Nico Rosberg when he also took third place at the Spanish GP - confirmed the pre-race suspicion that Red Bull would be able to draw closer to F1's current pacesetters on the venerable street circuit.
Montreal's Circuit Gilles-Villeneuve is also a street track; however its layout - essentially chicanes followed by long straights - leads Ricciardo to believe that Mercedes will power away from their nearest rivals once more, even though he insists they are improving their Renault-powered RB10 car.
"This circuit definitely suits our package a bit better than previous circuits - we still didn't finish in front so, unfortunately, it's still not where we want to be," he said on Sunday. "Montreal is still a street circuit but unfortunately the straights go on a little bit longer there so we're still down a little bit in that area, which I think everyone's aware of and we've made progress.
"Whether it will be enough by then, honestly, probably not but we are closing the gap so, that's all we can ask for, for now, and just keep chipping away at it and be patient.
"I'm sure a bit of perseverance as well and we'll get there."
The Canadian GP takes place in two weeks on Sunday June 8th.