Fernando Alonso still believes he can add to his tally of world titles at Ferrari
"I have no doubts. I think we can do it," Spaniard says
By Mike Wise
Last Updated: 08/06/14 10:53am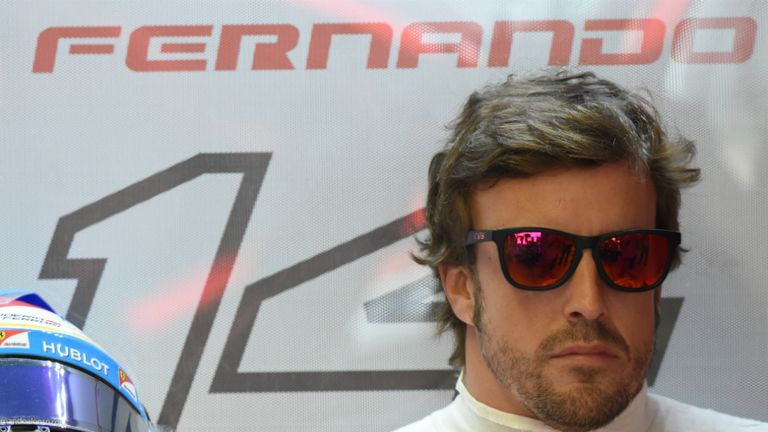 The Spaniard's wait to add to the World Championships he won in 2005 and 2006 has turned into something of a saga since he joined the Scuderia in 2010.
Although he came close that year and again in 2012, Alonso's efforts have been hampered by Ferrari's long struggle to find performance.
Their cars were no match for the ones Red Bull produced during Sebastian Vettel's run of success and Ferrari have also been found wanting now F1 has adopted its new hybrid formula.
Yet Alonso, whose current contract expires in 2016, still believes he can secure a hat-trick of titles without with need to move elsewhere.
"I do. It was my ambition, when I signed for Ferrari, to get some more championships and I've been very close on two occasions," he told Sky Sports F1's Ted Kravitz.
"We just missed - 'hit the post', probably, on the last penalty - but we don't want to have another opportunity and miss that one."
From the outside, it's becoming increasingly clear that Alonso probably has no choice other than to sit tight and hope that Ferrari can finally deliver a car to match his own talent.
Seen by many as the best all-round driver in the sport, he's occasionally struggled to toe the official line the longer his wait has gone on and earned a public rebuke from President Luca di Montezemolo last summer for criticising Ferrari's 2013 car.
At the same time, he was rumoured to have held talks with Red Bull but nothing happened and with Mercedes saying they have "long-term relationships" with Lewis Hamilton and Nico Rosberg, the feeling is that Alonso is running out of time if he wants to get his hands on a title-winner.
Another option would be a return to McLaren, where he had a tempestuous season alongside Hamilton in 2007.
Ron Dennis - with whom Alonso fell out spectacularly seven years ago - has said he would be prepared to let bygones be bygones. Yet given their recent record of success, not to mention the unknown of Honda's engine programme which comes on tap next year, there would certainly be no guarantee of immediate success.
At almost 33 years old, then, Alonso seems ready to accept that the grass might not necessarily be greener elsewhere.
"Whatever it takes, we will work very hard. But we want to make that as sure as possible. This year it's going to be very, very difficult - even if we don't give up because there's still a long way to go - but hopefully next year or the year after," he said.
"I have no doubts. I think we can do it."
In the short term, Mercedes' dominance this season is such that Alonso says he's now concentrating on helping Ferrari secure second place in the Constructors' Championship.
And ahead of Sunday's Canadian Grand Prix, he also played down the upgrades they've introduced to the F14 T this weekend.
Alonso, who qualified seventh in Montreal, said: "Obviously, we need to work step by step, it's not that a magic part of our car will change our season and change our hopes for the championship.
"But definitely we need to keep developing the car now because there is a group of cars now that can fight for second place in the championship and we want that spot."