Canadian GP paper review: Fleet St has its say on Sunday's rollercoaster race
'Collywobbles in Canada' for Mercedes while Ricciardo proves his talent
By Sky Sports Online
Last Updated: 09/06/14 11:56am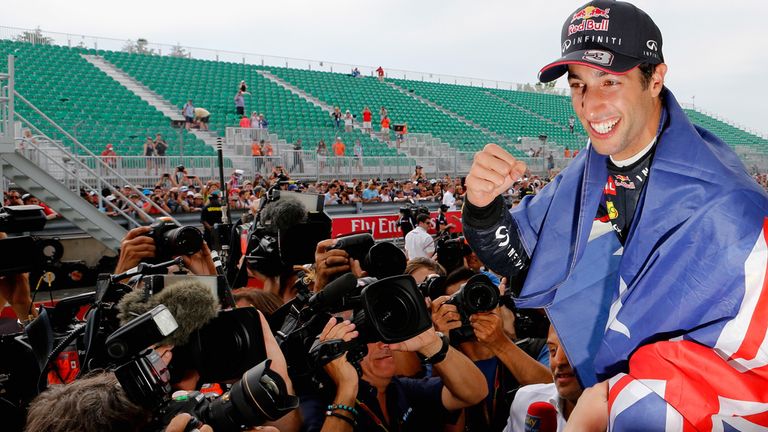 'Forget a Thriller in Manila; this was Collywobbles in Canada for a Mercedes team who ruled the roost until they washed up on the Ile de Notre-Dame in the vast St Lawrence Seaway,' wrote Kevin Eason in The Times. 'Mercedes executives had faces the colour of seasick landlubbers as they watched both cars turn from paragons of technology to jittery bangers.'
Hamilton was forced to retire after ERS and brake problems intervened. But with Rosberg nursing a similarly handicapped car to second place - and with the Silver Arrows again out front and nose to tail in the first half of Sunday's race - The Daily Telegraph pointed out the task the Briton faces.
'He now trails Rosberg, who almost made the greatest save since Gordon Banks in 1970 to finish second, by 22 points in the World Championship,' wrote Daniel Johnson. 'After Melbourne, it took four consecutive race victories to close the gap. He will need something similar now if he is to wrestle back control.'
'Them's the brakes,' was Ben Hunt's pun-some assessment in The Sun while The Guardian's Paul Weaver was rather more overwrought, describing it as a 'cruel and devastating psychological blow on the track where the British driver has enjoyed so much success'.
With Hamilton out on lap 45, The Independent picks up the thread. 'The nail-biting race really came to life in its closing stages as Rosberg nursed an ailing Mercedes and the top five cars circulated within two seconds of each other in a tense nip-and-tuck battle,' wrote David Tremayne. 'But once Ricciardo had pounced on the valiant Sergio Perez, who had made only one pit stop to his rivals' two and was driving brilliantly to hold second place despite his Force India's fading brakes, Rosberg was vulnerable.'
The Bull eventually plunged the knife in three laps from home. Cue Ricciardo's megawatt grin, one that's probably capable of matching Renault's engine for power. According to The Times, 'It was reward for patience and determination and underlines the promise of a young talent so many doubted was big enough for the world champions.
'Well, Ricciardo's talent is big enough - just ask Sebastian Vettel. The champion started three places ahead of his popular team-mate on the grid but had to settle for third place.'