Felipe Massa pointed an accusing finger at Sergio Perez for their Montreal crash
Brazilian says his Mexican rival "needs to learn"
Last Updated: 10/06/14 3:19pm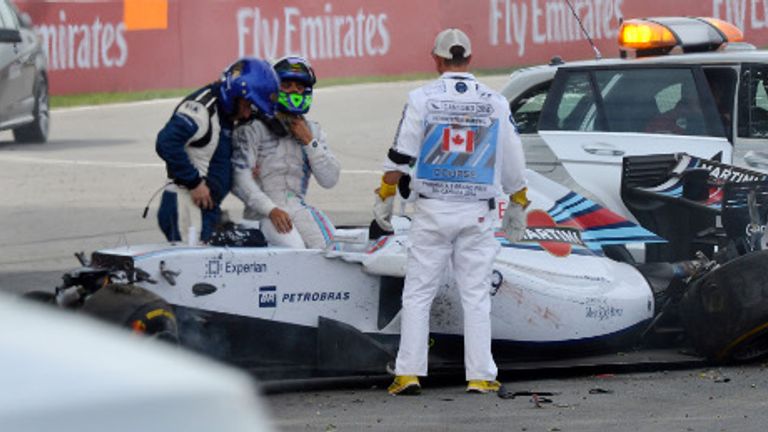 Felipe Massa has pointed an accusing finger at Sergio Perez for the horrific smash that led to both men undergoing hospital checks.
The incident came on the final lap of the Canadian Grand Prix at the Circuit Gilles Villeneuve, with Massa and Perez scrapping over fourth place behind debut race winner Daniel Ricciardo in his Red Bull.
As Massa pulled out from behind Perez to pass, the Mexican made a small move to his left, resulting in the Brazilian in his Williams smashing into the left-rear wheel of the Force India.
It resulted in Perez ramming into a barrier to his right, whereas Massa hurtled straight on into a tyre wall at turn one, suffering a 27g impact, narrowly avoiding the Red Bull of third-placed Sebastian Vettel en route.
Although both men remarkably emerged unscathed from their cars, as a precaution they were initially assessed at the track medical centre, and then airlifted on to hospital.
Both were eventually released after passing tests, but Massa said: "I thought it (the accident) was going to hurt because it was a very strong impact. I'm really happy nothing happened.
"I spoke to him (Perez) at the medical centre. I was so disappointed with him. I said he needs to learn. I wanted him to put himself in my place because I had a huge crash.
"It's not the first time he turned into somebody under braking. He has done this many times, but he didn't say anything. He just turned and left."
Massa was also scathing of the stewards' decision to only hand Perez a five-place grid penalty for the next race in Austria on June 22.
"I hope he learns because we were doing 300 kilometres per hour at the time," added Massa.
"It was dangerous and we could have have had a very serious accident, so for me the penalty is not enough. We could have crashed into Vettel."
Williams' Head of Vehicle Performance Rob Smedley joined Massa in condemning the actions of Perez and also Force India for allowing him to continue despite bemoaning a rear brake problem beforehand.
"We showed them evidence from the radio transcript - which I think was around lap 67 - where he (Perez) said 'I've no rear brakes' I think was his comment," said Smedley.
"They (Force India) said 'Well if you can carry on, carry on, and if you can't, pit'. That says to me it's a fairly terminal problem.
"Why you leave a car out when you've that sort of problem is beyond me.
"You saw two teams - one of which was ours - knowing when to call it quits.
"With Valtteri (Bottas), we had to tell him to back off saving brakes and saving engine - critically brakes because it can be dangerous. We had to back him off and we had to lose points. That's life.
"Lewis Hamilton - because of his problem which was brakes and engine again - had to stop the car.
"A guy who is fighting for the World Championship and had to stop the car, so I am a bit peeved to say the least this has happened."