Nigel Mansell backs Mercedes to keep on top of the title rivalry between their drivers
1992 champion says plenty of time for Hamilton to close points gap
By James Galloway
Last Updated: 26/06/14 4:54pm
Former World Champion Nigel Mansell believes Mercedes should be praised for their handling of Lewis Hamilton and Nico Rosberg's title fight and reckons the team will manage to keep a lid on any rising tensions between their drivers.
As the 2014 season edges towards its half-way mark with three races to go before the summer break, either Rosberg or Hamilton remain the only drivers looking likely to end the year as World Champion with championship leader Rosberg's points advantage over third-placed Daniel Ricciardo in excess of race three victories.
With the battle for the crown therefore appearing to have already distilled into a straight duel between the team-mates, Mercedes chief Toto Wolff revealed after their sixth one-two of the year in Austria last Sunday that "transparency is suffering a little bit" between the two sides of the garage.
But Mansell, World Champion in 1992 and no stranger to tense intra-team title fights following his days alongside Nelson Piquet at Williams in 1986-87, has backed Mercedes to keep on top of any developing problems.
"The great thing is when you're with a fabulous manufacturer like Mercedes, who undoubtedly have got the best engine bar none this year, and the way the team's being managed with Niki Lauda's input there - and that is outstanding - I think there'll be very little if anything going on like that," the 31-time grand prix winner told Sky Sports Online.
"If anything's going on then obviously it's between the immediate engineers of the drivers and the drivers themselves, and that can be managed to a large degree.
"But you've got to take your hat off to the Mercedes team as a whole and the manufacturer because they are giving the drivers equal equipment, they are giving the sport's fans and Formula 1 what they want - which is outright racing.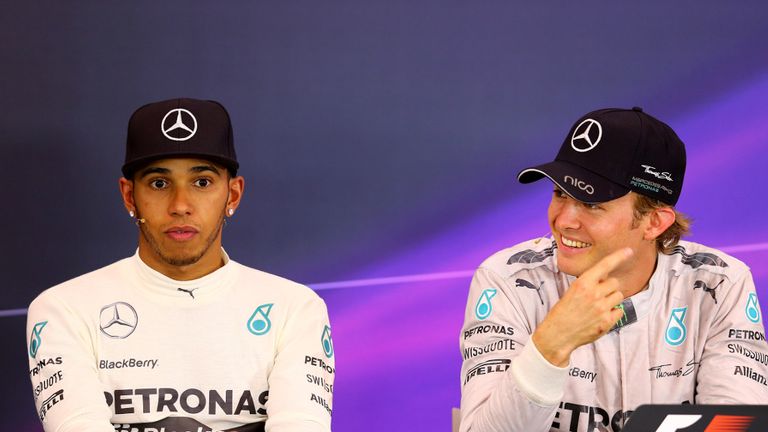 "Both Nico and Lewis are gung-ho with their racing and racing like crazy together. It's fantastic for them, fantastic for the sport. Mercedes don't have to do that and so all credit to Mercedes for how they're dealing with this situation and long may it continue."
For the moment at least, it is Rosberg who holds a healthy advantage in the championship duel with the German extending his lead to a season-high 29 points after finishing ahead of Hamilton at the Red Bull Ring.
Mansell believes the German driver has upped his game since Hamilton's run of four straight victories between Malaysia and Spain, but says there is still plenty of time for his countryman to recover.
"Brilliant start by Lewis, great effort and great drive through the [Austrian] race – but don't take it away from Nico," Mansell added. "He's driving superbly and I think since Monaco has found a new confidence.
"Between the Mercedes drivers, they're obviously going to be one and two in the World Championship. Who's going to win it, who's going to be the second? The favourite at the moment is Nico, but Lewis can bounce back at any time and there's plenty of races left - and reliability and lady luck are going to play a part."
Although Hamilton has made costly mistakes in each of the last two qualifying sessions, Mansell doesn't agree with suggestions that the 29-year-old is overdriving, although admits that such is Mercedes' current car advantage that neither the Briton nor Rosberg needs to take unnesscary risks early in a grand prix weekend.
"First of all, Lewis is a great race car driver, and when things go right you get the praise and when things go a bit wrong then people put pressure on drivers where there isn't pressure there," the former Lotus, Williams, Ferrari and McLaren driver explained.
"But then they create it and you can create pressure. The press and the television and all the cameras; you've got so much information now on what a driver does and doesn't do. He can make a very small error which can be blown up into a magnification that it's quite a huge error. But it's not.
"They have to be very, very calm and very professional about what they're doing. They're in the best cars, they've got the best engine, the best manufacturer at the moment. Don't overcomplicate it, do a solid job, let the race settle down and then whoever passes the line first will be first and the other guy will be second."
Watch the 2014 British GP live on Sky Sports F1. Extensive coverage of the Silverstone race weekend begins with Friday Practice from 9.45am on July 4.