Drivers have spoken out against the new rule to re-start races from the grid
More excitement the intention but fairness of re-starts questioned
By Mike Wise
Last Updated: 27/06/14 10:25am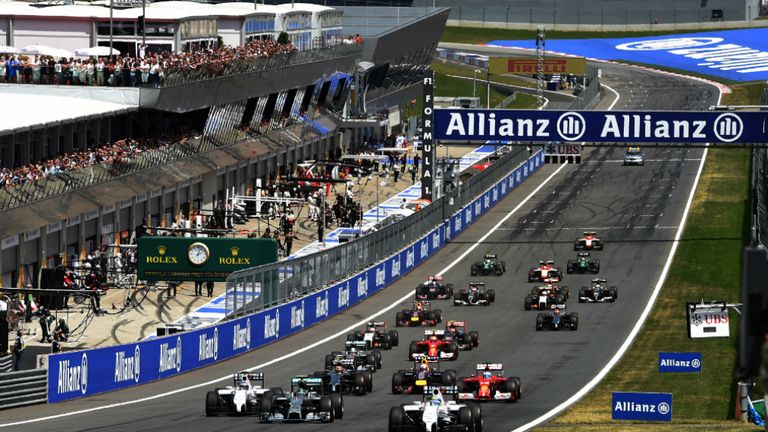 Drivers have started reacting to the new rule which means that standing starts will follow Safety Car periods next season, with the consensus far from positive so far.
The idea, which comes from F1's Strategy Group with the reasoning that standing starts offer more excitement for fans than the current rolling starts, was ratified by the FIA on Thursday prior to its addition to the 2015 Sporting Regulations.
Questions have been raised, however, about how the re-starts might be implemented, with drivers at the Austrian GP also pondering both the fairness of such a move and how it might affect the quality of the racing.
"I understand that the start is one of the most exciting times for the fans, but it sounds very extreme and I hope that it's not going to be done. It's going too far with things," Austrian GP race winner and current championship leader Nico Rosberg said.
"I like pure racing the way it's been for the last 50 years. I don't really want to see such a huge change to do another start. It's a bit strange. My natural opinion at the moment is that it should stay the way it is now."
Daniel Ricciardo agreed. "I guess it's maybe a bit more exciting because there's a bit more variability with the standing start," the Red Bull driver said. "But for me that's a bit too artificial because if you're leading the race by ten seconds and the Safety Car comes out then you lose your advantage that you've built up. You keep your position but you still lose something.
"If it goes to a standing start, the chance of not having a great start is pretty high, so you could go from first to fourth. It's just a bit too much of a disadvantage for someone who earned the lead in the first place.
"I think they could find something better. Now, rolling starts are not too bad; at least it bunches everyone up. I don't think it's that bad how it is. For spectators, it would be better for a standing start but it's probably not the most fair idea."
Like Rosberg and Ricciardo, Lewis Hamilton said he hadn't even been aware of the proposal and suggested that drivers should have a greater say in shaping rules that directly affect them.
"That's the first I've heard of it, so I guess I really need some time to reflect on how it would work," he said. "But ultimately, it can't hurt anyone to have the drivers' opinions on certain things and obviously involve us because we're in the car.
"It's impossible for us to say how it is for the stewards in their office. We're not stewards and we've not been sitting there during the race. And it's impossible for them in the office to see how it is for us in the car. We should definitely try and work together.
"They're always coming up with cool ideas," Hamilton added. "Sometimes they work, sometimes they don't."
Meanwhile, Fernando Alonso said he didn't "have any strong preference" about whether F1 should adopt a system he and his counterparts would have last experienced in their karting days.
Santander British GP Tickets
"When I arrived in single seaters the restarts were like [they are currently] and I have no idea how they can be on the other side," the Ferrari driver said. "In go-karts, when there was a red flag or something, we'd have a normal start again with the lights.
"I did both and it makes no difference, I think, to me. I don't have any preference."
There would be no change to the current procedure after the Safety Car's introduction - with cars being allowed to pit, form a queue behind the Safety Car and unlap themselves if necessary.
Thereafter they would form on the grid in race order and wait for the lights - although a rolling start will still take place if the Safety Car is used within two laps of the start (or restart) or if there are less than five laps remaining.
As well as out on track, safety in the pit lane would be an issue with team personnel located on the pitwall having to stand in the garage at the start of the race.
Presumably they would have to move back there during subsequent starts, with McLaren team boss Eric Boullier calling on the FIA to think the idea through properly.
"I think there is a need for Charlie Whiting to look at it carefully because obviously there's a lot of issues that could be wrong or make the show wrong," he said.
"Still there are a lot of changes to be given out to do it practically on the track. Especially, we have only a couple of laps or sometimes only one lap to make sure your drivers know where to stop – on which side of the grid, which may be a challenge."
Watch the 2014 British GP live on Sky Sports F1. Extensive coverage of the Silverstone race weekend begins with Friday Practice from 9.45am on July 4.