Jenson Button says McLaren on 'right track' after fighting fourth in British GP
2009 champion happy despite falling just 0.8s short of podium finish
By Mike Wise
Last Updated: 07/07/14 11:01am
Jenson Button reckons McLaren are now on "the right track" after his fighting fourth place in the British Grand Prix at Silverstone.
Although Button qualified third – McLaren's best grid slot since 2012 - in wet-dry conditions, the disappointing pace of their MP4-29 so far this season created an expectation that he might struggle if Sunday's race was dry.
As it turned out, the cloud cleared and conditions at the Northamptonshire track were warm and sunny. Yet Button didn't fall back after all.
Mercedes and Williams' speed meant he could do little to withstand the advances of eventual winner Lewis Hamilton and second-placed Valtteri Bottas. However, Button held off Fernando Alonso's Ferrari and only finished 0.8s behind Daniel Ricciardo's Red Bull after the Australian managed to make a set medium option tyres last 37 of the race's 52 laps.
"I didn't expect to be chasing down a Red Bull for a podium position here this weekend," the 2009 World Champion told Martin Brundle on Sky Sports F1. "If you'd said we'd have finished fourth here this weekend, I'd have been very happy with that result but when you're actually fighting in fourth for a podium, you're disappointed.
"It was so close, 0.8s. But I think all-in-all it's been a good weekend for us, third yesterday – we were helped by the weather – but we made the best out of it, and today to get a fourth, with all those quick cars behind us, I think is a pretty good result."
With team-mate Kevin Magnussen also enjoying a strong weekend – the Danish rookie finished seventh from fifth on the grid – Button suggested McLaren had found more downforce in their car.
"I think we raced very well today. The car has improved this race in the high-speed corners, which is what we needed – this was always going to be a bogey track for us," he said.
"We've definitely improved. We beat a Red Bull, we beat a Ferrari fair and square.
"It's something small for the team and hopefully this will keep them positive that we can improve race by race."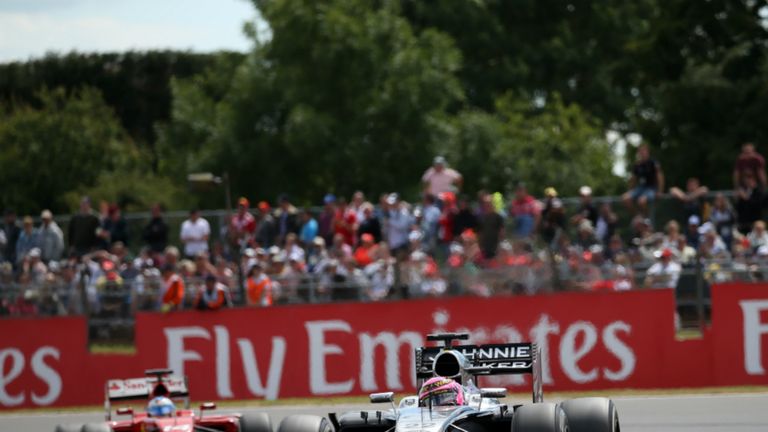 Button also played down the comments made by McLaren boss Ron Dennis earlier in the week that his driver should "try harder".
"That's always the problem when you have a good race after someone says something like that. He said that with a glint in his eye, when he made those comments," Button said.
"I know Ron pretty well but when you read it in print it obviously looks very different to when you know the man.
"We all need a kick up the bum, I think, and we all need to try hard as a team. We've done that this weekend, we've made some improvements. It's nowhere near enough but it's on the right track.
"We all know that we've got to do a better job and Ron knows he does as well."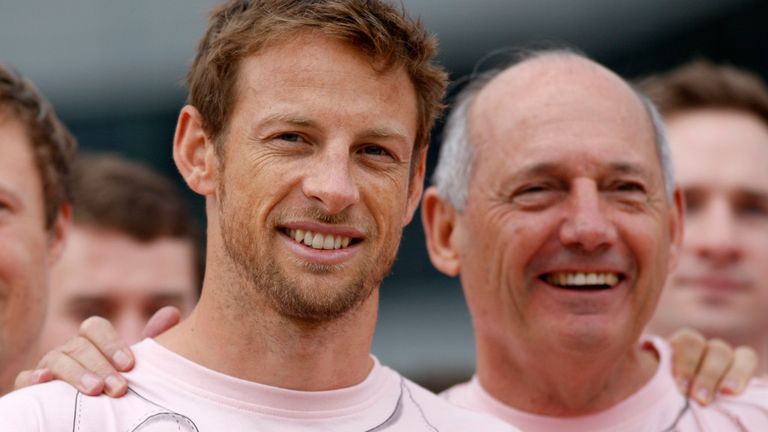 Meanwhile, Button said he had been overwhelmed by support for the 'Pink for Papa' campaign he set up for the race in memory of his father John, who passed away in January.
Pink shirts – which John Button habitually wore on race days – were in evidence pretty much everywhere, with proceeds going to the Henry Surtees Foundation.
"It's the sort of race he would have loved," Button added.
"I must say, the reception this weekend for pink has been phenomenal, it really has. It's been overwhelming, the support.
"I think it's amazing that we've had a British winner this weekend, myself fighting for a podium, the sun shining, it's just perfect for the British Grand Prix."