Daniel Ricciardo wary of Sebastian Vettel's determination for German GP
But Aussie not expecting Hockenheim to suit Red Bull RB10
By James Galloway
Last Updated: 11/07/14 12:30pm
Daniel Ricciardo is expecting team-mate Sebastian Vettel to try and use his home German GP next week as a springboard to a stronger season half of the season.
Against all pre-season expectations, it has been Red Bull's new signing who has led the way at the World Champions this season, with Ricciardo yet to be beaten by Vettel when both drivers have finished a race and holding a six-three advantage in qualifying.
However, although it is Ricciardo who claimed the team's only victory of 2014 so far in Canada and then finished on the podium again at Silverstone last weekend, his quadruple World Champion team-mate has shown signs of improvement in the RB10 recently and qualified ahead at two of the last three races.
And Ricciardo is eventually expecting to see the very best of Vettel, starting with an especially determined performance from the 27-year-old at his home race, an event he finally won for the first time when staged at the Nurburgring last year.
"I don't know if the word is improve or get better because he is already very good, but I'm sure his form – if people are calling it that – is going to come, or it has come," Ricciardo told Sky Sports News
"So Germany I'm sure he's going to be really hungry to show his home that he's ready to take it on.
"For me it's just trying to improve, keep doing what I'm doing. Obviously I'm excited if there is a bit more in him because I think that'll bring out a bit more in both of us.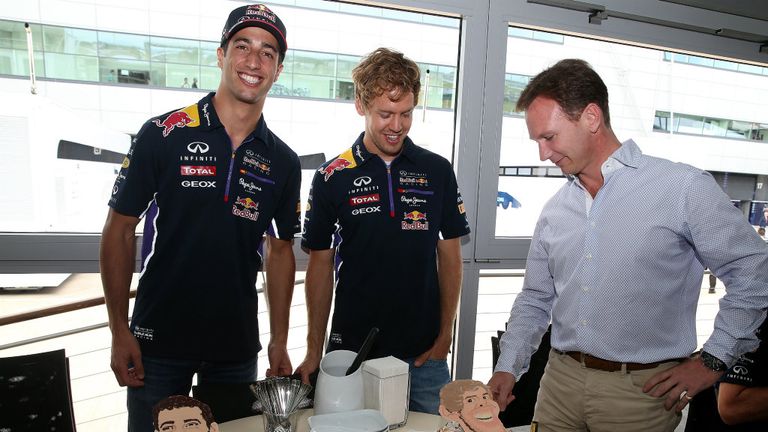 "So let's see. I know Germany he will be hungrier than ever so it should be a good battle on our hands."
However, the prospect of either Ricciardo or Vettel's of repeating the latter's German win from 12 months ago appear unlikely at Hockenheim next weekend given the performance advantage runaway championship leaders Mercedes continue to enjoy.
Indeed, Ricciardo conceded that the following week's round at the downforce-dependent Hungaroring was likely to present a better opportunity to challenge.
"There's a few long straights there [at Hockenheim] so on paper it's probably not the circuit that suits us the most to be honest," he admitted.  "Third sector [of the lap] in the Germany should probably be good for us, but in the first two we'll probably leak a bit of time. But let's see how we go."
"Budapest we can be a bit more optimistic for."