Nico Hulkenberg and Sergio Perez more confident ahead of German GP
Force India drivers think Hockenheim track and softer tyres should suit
By Mike Wise
Last Updated: 14/07/14 12:58pm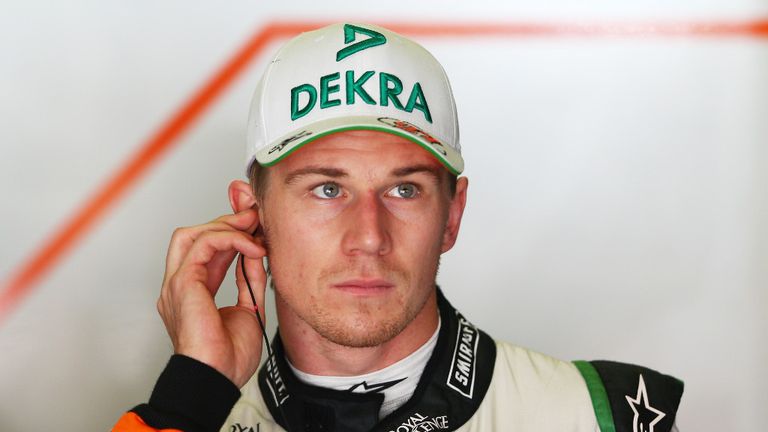 Nico Hulkenberg is confident he can maintain his 100 per cent record of points finishes at the German GP, with Force India team-mate Sergio Perez also expecting an upturn in performance at Hockenheim.
Hulkenberg shares Fernando Alonso's feat of scoring at every race so far and although he was in the points again with eighth place at the British GP, it was a tougher race for the Silverstone team.
Both Hulkenberg and Perez said at the outset that they might struggle at Force India's home track and that's how it turned out, despite them qualifying fourth and seventh respectively when rain arrived on Saturday.
As it turned out, better-than-expected tyre durability - normally seen as a particular asset of their VJM07 car - throughout the field and gusty winds hampered Hulkenberg in the race while Perez finished out of the points after colliding with Jean-Eric Vergne's Toro Rosso on the opening lap.  
Ahead of his home race, however, Hulkenberg thinks that Pirelli's nomination of its two softest tyres compounds, can help him earn a better result.
"Even on tracks where we have been struggling slightly, we have managed to score points," he said in the team's preview. "For example, in Silverstone the car balance was not ideal, but we still came away with four points.
"I'm feeling more positive about our performance in Germany, especially with the return of the soft and supersoft tyres."
Buoyed by the post-British GP test, meanwhile, Perez thinks the Hockenheim layout should suit them better. "It was good to have the chance to understand some of the issues that affected us during the race weekend," the Mexican added. "We also tested new aero parts on the car and the team will look at the data to decide whether we use them in Germany. 
"I believe Hockenheim will be a very different situation; it's a track that should suit our car better and we should be in a much stronger position."