FIA says that all teams have removed FRIC suspension at German GP
Confirmation sees off protest threat at Hockenheim this week
By Mike Wise at Hockenheim
Last Updated: 17/07/14 9:35pm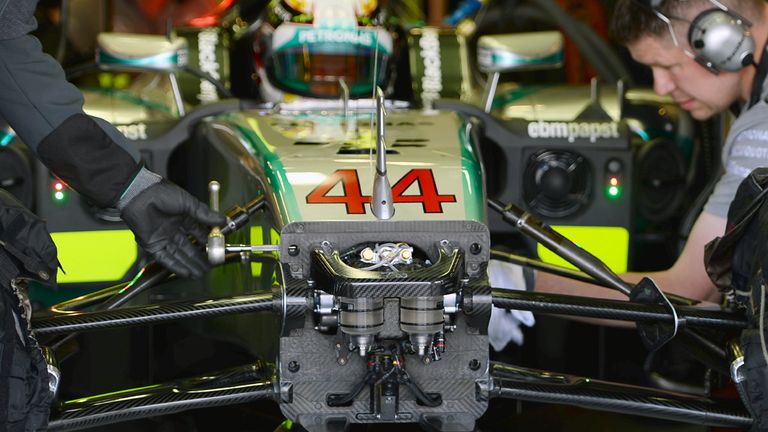 The FIA confirmed on Thursday evening that all teams have removed their FRIC suspension systems ahead of this weekend's German Grand Prix.
The confirmation, which came in a technical report issued after scrutineering, sees off the threat of protests by teams against rivals running front-to-rear interconnected suspension systems at Hockenheim.
It also came after the majority of teams said themselves that they wouldn't be running FRIC, the legality of which was questioned by FIA technical delegate Charlie Whiting last week.
McLaren were the first team to say as much earlier this week and with Red Bull and Toro Rosso following suit, Mercedes also said they would ditch their own version of FRIC earlier on Thursday.
Although the concept - which offers a performance advantage by maintaining a consistent ride height - has been around for several years now, it is believed that the runaway championship leaders have taken theirs to a whole different level.
As such, the Silver Arrows have most to lose by what has become an effective ban and Sunday's race will reveal the extent to which the move might affect their dominance.
A variety of drivers suggested on Thursday that the removal of FRIC won't be a game-changer. However, it's believed that the system could be worth up to half a second per lap.
It's the aerodynamic aspect of FRIC which caught the attention of Whiting, who wrote to teams expressing concern that the systems, while passive - unlike active suspension, which was outlawed over 20 years ago - might contravene Article 3.15 of the governing body's technical regulations, which outlaws moveable aerodynamic devices.
With FRIC expected to be explicitly outlawed in 2015, Whiting had stressed that teams could continue to run it for the rest of this season provided they each agreed not to protest. However, unanimity could not be reached.
Watch the 2014 German GP live only on Sky Sports F1. Extensive from Hockenheim begins with Friday Practice from 8:45am on July 18.