Susie Wolff bounces back from Silverstone disappointment in German GP Practice
Early sensor problem overcome as Scot laps two tenths back on Massa
By James Galloway
Last Updated: 18/07/14 10:41pm
Susie Wolff enjoyed a "fantastic" second Formula 1 practice outing on Friday morning at the German GP with the sport's first female driver for two decades impressing on the timesheet.
A fortnight after enduring a false start to her long-awaited race weekend debut when the Mercedes engine on her Williams FW36 failed after just one flying lap, the 31-year-old development driver appeared to be out of luck again in the opening minutes of P1 at Hockenheim when a software glitch left her car stuck in gear and limping round the circuit.
However, after the problem was resolved back in the team's garage, Wolff was able to resume her programme this time and she went on to complete 22 laps to finish in 15th place on the 22-driver timesheet.
Most impressively of all, the Scot's best time of 1:20.769 was just two tenths of a second slower than Williams' vastly experienced regular race driver Felipe Massa - although signs that Wolff's enthusiasm perhaps got the better of her on two occasions came with fines, totalling €2,000, for speeding in the pit lane.
Wolff's practice programme consisted of aerodynamic and mechanical testing, along with set-up work, across several runs while she also completed some practice pitstops at the end of the session.
"First of all I did more than one lap, so that was fantastic," Wolff told Sky Sports News afterwards.
"I had a little bit of a worry at the beginning to get back to the pits when we had the problem, but as soon as I made it back and they said they could fix it I thought 'thank goodness'. Then it was just a case of going for it.
"In the first run it was about building up pace, the second one again about new tyres, and the third one was just doing a bit of aerodynamical work. 
"It felt really fantastic. It felt really, really fantastic. The team did such a good job of getting me ready for today and it just felt so good to be out there and pushing and to finally do a proper session."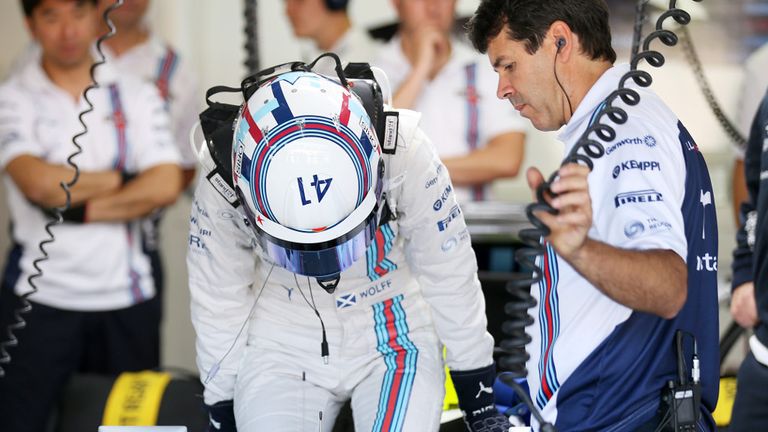 The former DTM driver now hands the FW36 back to Valtteri Bottas for the remainder of the race weekend with Williams yet to confirm when she will next run in their F1 car.
With her first full practice outing and subsequent commendable performance certainly having represented one significant breakthrough for female drivers after a 22-year wait, Wolff is nonetheless aware that the next steps up the F1 ladder are even tougher.
"It would be lovely to go back in the car for Practice Two and start the whole race weekend, but as we know that's tough to get into that position and for me it's one step at a time," she admitted.
"Today was an important step forward, it was a successful Practice One session, so now the aim is of course the next step. But as we all know that's pretty tough."
Watch the 2014 German GP live only on Sky Sports F1 with Sunday's race-day coverage from Hockenheim starting at 11.30am