Low German GP Friday attendance 'not satisfying' says Mercedes' Toto Wolff
Lack of fans "a different world" to Silverstone and Austria
By James Galloway
Last Updated: 18/07/14 5:37pm
Mercedes chief Toto Wolff has expressed concern over attendance figures at the German GP after Friday Practice took place in front of sparsely-filled grandstands at Hockenheim.
Despite the presence of four German drivers in the field – the most of any country – including the reigning World Champion and the 2014 championship leader, the number of spectators in attendance on the opening day of track activity was noticeably low, particularly in comparison to the last three events in Canada, Austria and Britain.
With Mercedes, one of Germany's most world-renowned firms, also dominating the season, the low numbers are a particular surprise and Wolff admitted the dearth of spectators was something that needed to be looked into.
"It's not satisfying," the Mercedes motorsport boss admitted.
"If you compare Hockenheim Friday to Friday in Silverstone and Friday in Austria it's a different world and we have to understand why that is."
Although Sebastian Vettel has won the last four World Championships, attendance figures have been in steady decline at Hockenheim – which now alternates as host of the German GP with the Nurburgring – since the end of Michael Schumacher's heyday at Ferrari in the early-mid 2000s.
Early speculation suggests Sunday's race-day crowd could be as low as 50,000 – half the number of people who flocked to the circuit in the Schumacher era – and Wolff added: "I'm not sure whether we have the exact number for Sunday already, there are lots of people probably deciding short notice depending on the weekend, then we have to analyse the phenomenon
"If the weekend continues like it does now we need to think about it."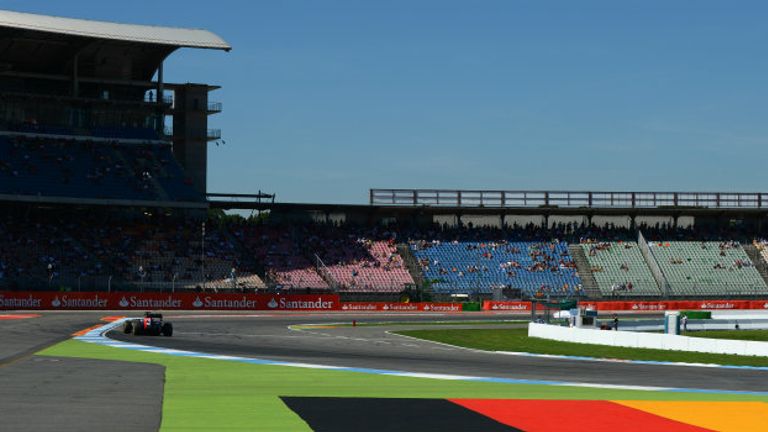 Watch the 2014 German GP live only on Sky Sports F1. Extensive coverage from Hockenheim continues with Qualifying from 12 noon on Saturday.