Nico Rosberg says route to German GP pole wasn't without his own brake problems
Poleman still expecting Hamilton to recover from crash setback in race
By James Galloway and Mike Wise
Last Updated: 20/07/14 12:15am
German GP polesitter Nico Rosberg admitted he had his own brake concerns during qualifying at Hockenheim despite using a different supplier to team-mate Lewis Hamilton, who suffered a disc failure in Q1.
It emerged on Saturday evening that while Mercedes had fitted fresh brake discs to both of their cars ahead of qualifying, Hamilton's side of the garage had opted to switch from Carbon Industrie to Brembo material while Rosberg stuck with the former.
Hamilton qualified only 15th after a right-front disc failure sent him spiralling into the barriers in Q1 and could yet have to start Sunday's race from the pitlane if Mercedes can't convince the FIA that a change of brake supplier for safety reasons is permitted under parc ferme conditions.
Rosberg took full advantage of his team-mate and title rival's travails by securing his fifth pole of the season for his home GP, but revealed to reporters afterwards that he had felt far from comfortable on the brakes.
"I put on new brakes for qualifying and there was something not right with them the whole of qualifying and it really was very difficult for me to get into it. I didn't feel comfortable all the way through," the German driver said.
"I sort of found my way eventually but going into qualifying I just do exactly the same as I did in P3 with the same tyre and it was completely different.
"So I was locking up everywhere and it was a big struggle. So I had to re-adapt and change a lot of things and find my way. So I sort of adapted to it but even in the end there was still performance that was lost because of it. We are looking into that now so that is definitely the biggest problem I had in qualifying."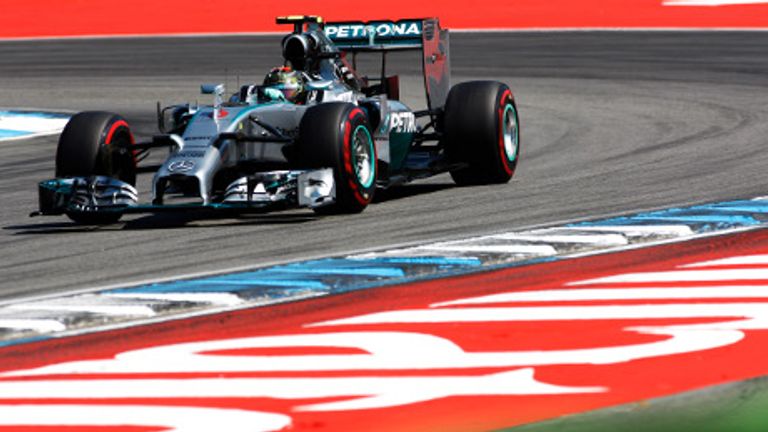 Mercedes chief Toto Wolff revealed after qualifying that Brembo had suffered a disc failure earlier in the season, although they subsequently beefed up their design.
Despite their sustained dominance at the front of the field, Mercedes have experienced various reliability problems recently and Rosberg said of the brake worries: "It's definitely a big concern, yes. So as a team we need to review what we do. Of course you can't run with things that are at risk of failing."
Provided that Rosberg's W05 doesn't run into problems over the 67-lap race distance on Sunday, the German is poised to reopen his championship advantage over Hamilton given that at least 14 cars will start between the two Mercedes' at the beginning of the race.
However, Rosberg, who has yet to even finish on the podium at his home GP in eight years of F1, is expecting his team-mate to again recover from a disappointing qualifying result.
"For sure, I still expect him to come through the field quickly," the 29-year-old said.
"I don't know. It's difficult to predict. I need to do my own race, I need to push anyway from the front, I need to go for it and try and pull a gap and then see where I am with strategy and everything."
Watch the 2014 German GP live only on Sky Sports F1. Race-day coverage from Hockenheim begins at 11.30am on Sunday