Lewis Hamilton holds hands up after clash with Jenson Button during German GP
Damage done to Merc forces Lewis onto costly three-stop strategy; Rosberg now 14 points clear in Drivers' World Championship
By Pete Gill
Last Updated: 21/07/14 9:02am
Lewis Hamilton has taken the blame for the collision with Jenson Button which probably cost him second place in the German GP.
The two former McLaren team-mates tangled as an aggressive Hamilton lit up the Hockenheim circuit by charging through the field from 20th on the grid in Sunday's event-filled race.
As ever with Hamilton, the brilliance was laced with danger, with the Mercedes driver dicing with disaster on at least three separate occasions. Having already made contact with Adrian Sutil's Sauber and, in an ultra-risky overtaking move that saw him defy a lock-up to pass two cars in a single corner, the Ferrari of Kimi Raikkonen, the front-wing of Hamilton's W05 was badly damaged when he clashed with Button as he attempted to pass the McLaren.
Although replays suggested that Button had been caught unawares by Hamilton's sudden plunge into the hairpin, the Mercedes driver held his hands up in apology from the cockpit when he belatedly – but cleanly – rounded the McLaren a few laps later.
"It was really tough to get through the pack safely and I had a bit of a collision with Jenson," said Hamilton on the podium. "I honestly thought he was opening the door to let me pass - he's been a bit like that in the last race, for example - but it was my bad judgement."
For his part, Button, who finished in eighth, was unrepentant by his refusal to offer Hamilton easy passage.
"He drove into my rear wheel, that's all I have to say," Button told Sky Sports F1. "I guess he thought I was going to let him past but I am out there doing my race and it would be boring if we all just let him through coming through the field."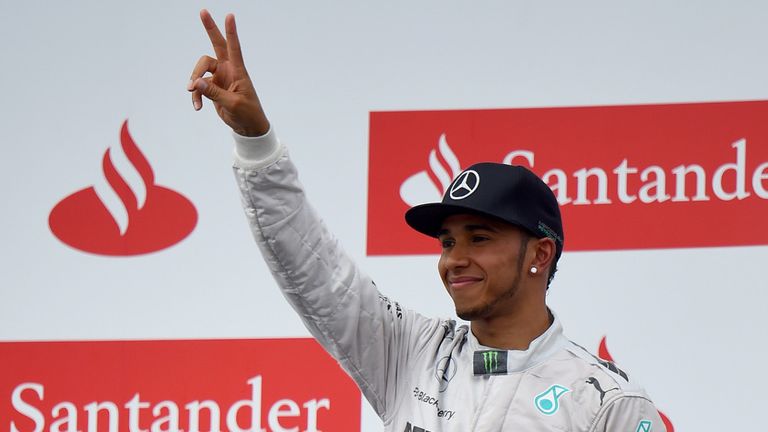 The damage done to the endplate of Hamilton's car resulted in faster than expected tyre degradation, forcing the Englishman on to a three-stop strategy that ultimately came up just short in his pursuit of Valtteri Bottas behind race victor Nico Rosberg.
"At the end it was very difficult to overtake [Bottas] but I'm just glad we got some points." added Hamilton. "I did as good as I could today."
He certainly did with Hamilton's charge from the back of the grid the highlight of a riveting race. "He had to push his luck today and I thought he drove a sensational race," enthused Sky F1 pundit Martin Brundle. "He pushes his luck with his front-wing, and he always did at McLaren as well, but if you analyse his race if was a sensational drive."
As a result of those efforts, the 29-year-old now trails team-mate, and solitary title rival, Rosberg by 14 points. It's a sizeable deficit, particularly so given that Mercedes' dominance has been unchecked by the FRIC 'ban', but third place nevertheless represented a successful damage limitation operation for Hamilton following his disastrous qualifying on Saturday.
"Probably the best battle was with the Ferrari and then it was just a little unfortunate with Jenson," said Hamilton to Sky F1 later. "He's been great in the last few races and not given me a particularly hard time with overtakes. He went wide, I took the corner and then he came back over and we collided. 
"I lost quite a bit of downforce and it was hard to look after the tyre with so much understeer but getting from 20th to the podium is a great feeling."