F1 serves up a treat to silence the critics
Sky F1's Martin Brundle reviews the riveting action-packed German GP and considers how to improve refereeing in F1...
Last Updated: 07/04/15 1:52pm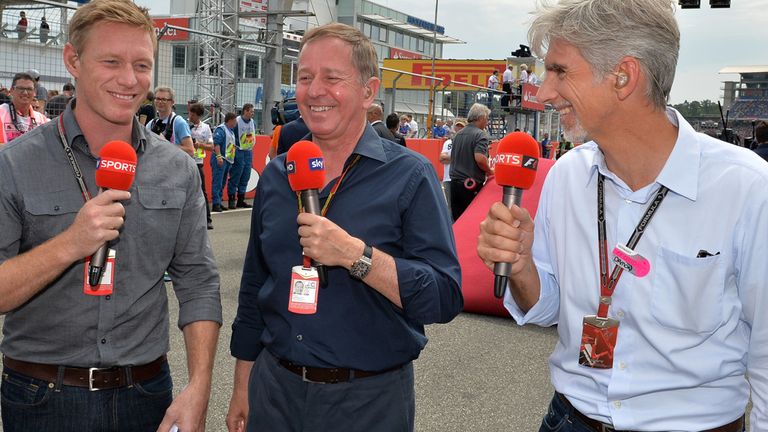 Another cracking race to add to several others this season. The Sky F1 end of season review is already virtually guaranteed to have loads of action left on the digital equivalent of the cutting room floor.
I just wish influential people would stop slagging off our sport because it's contagious and plain wrong. I'm not 'head in the sand' pretending all is perfect because all sports,entertainment and media forms have to develop and evolve to maintain their place in an ever more competitive, diverse and accessible environment.
Some try to tell me that the last turbo era in the '80s was much more exciting. It wasn't, I was guiding one of them for much of it, and plenty of those races were boring to drive in let alone watch, living on the fuel gauge while waiting for it to go bang. Reliability was appalling, pole to last on the grid was often 10 seconds, and it was perfectly easy to cruise home in 6th place two laps behind the leader. Some of the races were epic too of course, just like today.
Sunday's race saw yet more side-by-side action with breathtaking skills, along with some over ambitious clumsiness. The new more lenient stance by the Stewards, as requested through a common sense discussion and process, has very quickly motivated the drivers to push much harder in combat in the knowledge that a little contact will not ensure a race-wrecking trundle through the pitlane.
Ricciardo's 'never say die' attitude against the Spaniard who never gives up was a career defining moment. Even Alonso has publicly applauded that one, not that he could do much else, although he beat the initially delayed Aussie to the flag. We've long craved this type of GP2 ambitious and inventive driving in F1 again and taking away the stigma of so many penalties has helped enormously.
Of course we still need rules, just as you couldn't possibly have a football match without a referee. There's much confusion though over 'track limits' where we saw drivers heavily penalised in Austria and Silverstone, but allowed to run wide in Germany. I really wish that this could be more rigid and spoke with Charlie Whiting about it. He explained to me that the kerbs and various run-off zones vary significantly from circuit to circuit, especially the older ones. This is not apparent on TV.  Moreover, those circuits which also have motorbike racing have very conflicting demands. Track layouts also vary massively in terms of what does give a lasting advantage. Most importantly he pointed out to me that if every corner needed a judge of fact and the Stewards had to investigate every incident of every driver on every lap running wide then the system would simply implode.
 We should use the GPS technology already on the cars to measure and automatically flag up persistent track limits abuse, or maybe even temporarily slowing the cars after an infringement. Then the same impressive driving skills we saw on Sunday would immediately be used to keep the cars on track...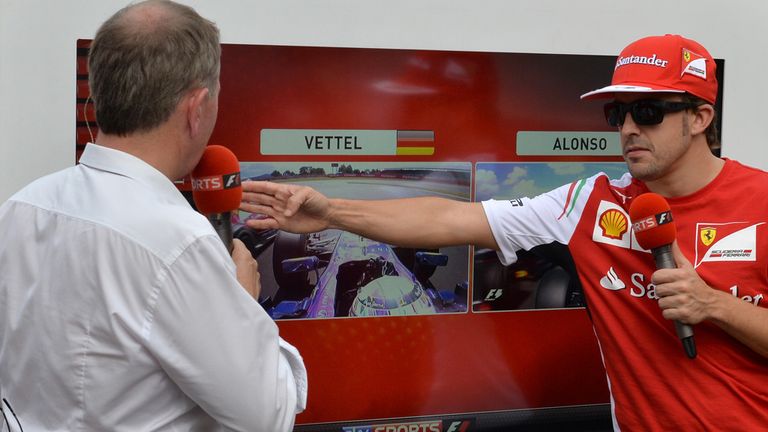 Track limits are not an issue at Monaco, as long as they don't jump the chicane, but we can't have barriers or dangerously high kerbs alongside every corner. It's not such an easy fix, but more info as to why certain corners and tracks are policed more heavily will help us all to understand and explain it better. For example the kerb on the exit of the final turn in Hockenheim is twice as high and twice as wide, with two opposing cambers leading onto grass, as that of Silverstone. And so a different approach was taken.
In hindsight, that most comfortable of places to visit, Lewis Hamilton didn't need to be quite so punchy with his overtakes in order to achieve his desired second place, his various skirmishes leading up to the rather firm and actually somewhat fortuitous contact with Jenson Button cost him three points. His team where also convinced that the Sutil last corner spin would bring out the safety car, but the damage was already done to his front wing and subsequent sets of tyres.
It was interesting in my Sky F1 interview with Nico Rosberg that he finally admitted they had been very worried about how losing their very good FRIC suspension goodies would affect their performance. Every team and driver had dismissed the loss of FRIC as of little importance which made no sense. They've carried this equipment around the race tracks of the world for several years and spent millions developing the systems. Bit of an own goal to say it was all rubbish, and standing beside the track it was easy to see that the hurriedly newly set up cars were just a little more difficult to brake and turn in to slow corners. They'll iron that out soon enough and the budget will now go towards the next FRIC/F-Duct/Mass Damper/Blown Exhaust/Double Diffuser concept.
Rosberg needn't have worried, he was cruising all race, his fastest lap was 1.3 seconds slower than Hamilton, and yet he lapped everybody up to 8th, and thrashed Red Bull and Ferrari by 40-50 seconds at a canter.
What really spiced up the race was tyres which fell away reasonably quickly, somewhere between the chewing gum tyres of years past and the rather more durable Pirellis we have seen at other recent races.
The combination of DRS and attack boost was a bit too powerful heading down to the legendary turn 6 hairpin but at least it gave the the spectacle of any number of world champions playing dare on the brakes and bouncing off each other. They love it. We love it. 
MB