Adrian Sutil insists he's staying at Sauber, despite rumours to the contrary
Suggestion is that reserve driver Giedo van der Garde will step up
By Mike Wise at the Hungaroring
Last Updated: 24/07/14 5:58pm
Adrian Sutil insists he will stay at Sauber for the rest of the season, despite rumours suggesting that reserve driver Giedo van der Garde will step up in his place.
Both Sutil and team-mate Esteban Gutierrez have yet to score a point in what has so far proved a dismal 2014 for the Swiss team and although the latter's future appears on a surer footing – the return of the Mexican GP was confirmed on Wednesday and Gutierrez also has backing from communications giant Telmex – question marks are surrounding the German.
Van der Garde, the former Caterham driver, has made five practice appearances for Sauber so far this season and is said to have around €15million worth of backing from clothing brand McGregor.
Yet Sutil was in combative mood when the subject was raised at the Hungarian GP on Thursday, with the 31-year-old pointing out that it's not the first time his future has been open to speculation.
"I think half of my career they said 'Adrian is out'. I'm still here; it's my 120th grand prix. Any more questions?" Sutil responded.
"I'll be here for much longer so sorry, but you'll have to live with my face.
"This is not the truth. You can ask me – I'll give you the right answer. It's from some person out there which is bored or whatever.
"I don't know their problems but we are good here and the team is holding together in these times. This is no problem and we will try and get out of this difficult situation and then I'm sure you can also write some good stuff or whatever."
Sauber Team Principal Monisha Kaltenborn added: "I just learned today that apparently someone is talking about it - but definitely not myself or anyone at Sauber.
"We've announced our drivers with the functions they have and in the unlikely event – and we really hope anything doesn't happen to our two race drivers – he would be the one to step in.
"Only if something unexpected happened, then he would step in."
Sutil's optimism was also reflected in his comments about Sauber's performance at the German GP, which he said was better than at previous races.
Although he spun out of the race on lap 47, Sutil said the fact he had raced the likes of Ferrari's Kimi Raikkonen, the Toro Rossos of Jean-Eric Vergne and Daniil Kvyat and Serio Perez's Force India on the fringes of the top ten showed that their pace had improved.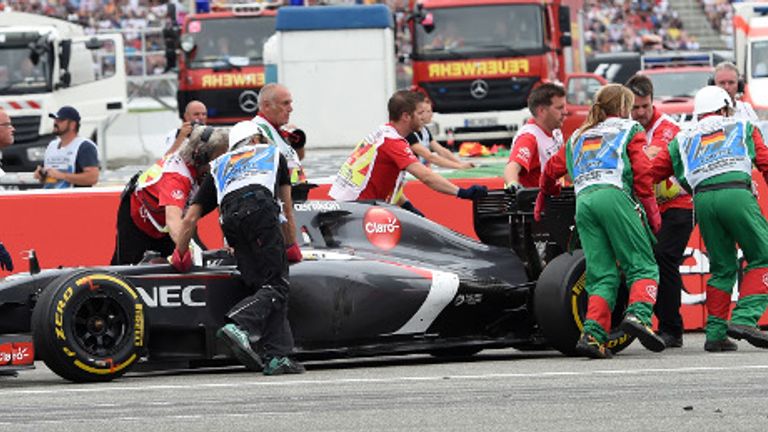 "It was quite encouraging to have the last race at Hockenheim; we were much closer and finally we could fight again against better teams," he added.
"If you look at it optimistically, there was a little chance for a point.
"It was much better and the whole weekend in general, we were much closer to the top ten. So I expect a better final half of the season."
Watch this weekend's Hungarian GP LIVE ONLY on Sky Sports F1. Extensive coverage from the Hungaroring begins with Practice on Friday from 8.45am