Andre Lotterer plays down expectations ahead of belated F1 debut in Belgium
"Don't expect too much from me," Audi WEC star says
By Mike Wise at Spa
Last Updated: 22/08/14 7:46am
Understandably perhaps, Andre Lotterer is playing down expectations ahead of his surprise debut for Caterham at this weekend's Belgian GP.
Over a decade since he last stepped into the cockpit of an F1 car, the three-times Le Mans winner will replace Kamui Kobayashi at Spa, with Lotterer describing the circumstances as "unusual".
Certainly they contrast with those of Max Verstappen, whose own F1 baptism, scheduled for next season at the age of just 17, was announced earlier this week.
Going on 33 and greying at the temples, the German has spent the last decade or so racing single seaters in Japan. He's undoubtedly better known, however, for his more recent exploits with Audi in the WEC.
"To have the chance to drive is something special; I think not everybody has the chance to jump in like that. I thought, 'I have this opportunity, let's do it'," Lotterer said on Thursday afternoon.
"It's a big challenge. I think I have to be quite brave to jump in like this in the middle of the season."
Lotterer said the deal, which at the moment is just for one race, came about in the last three weeks, although it was only confirmed at the last minute.
Turning out for F1's backmarker team means he will miss this weekend's Super Formula race in Japan but Lotterer  reckons the chance is still too good to miss.
"I did 100 races already there and you don't get this opportunity every day," he said.
The decision to replace Kobayashi with someone whose last connection with F1 was as a Jaguar test driver in 2002 might appear strange, but Lotterer insists he is "ready".
"First of all I still race single seaters, Super Formula, which is one of the fastest single-seater formulas after Formula 1, and that shows I'm not out of shape in formula racing," he said.
"I'm racing really complex cars in WEC with Audi. For sure, the last time I drove an F1 car was more than ten years ago. The sport has changed and evolved, but on my side I gained a lot of experience as well.
"It's something nice to do suddenly in my career and it's a nice opportunity."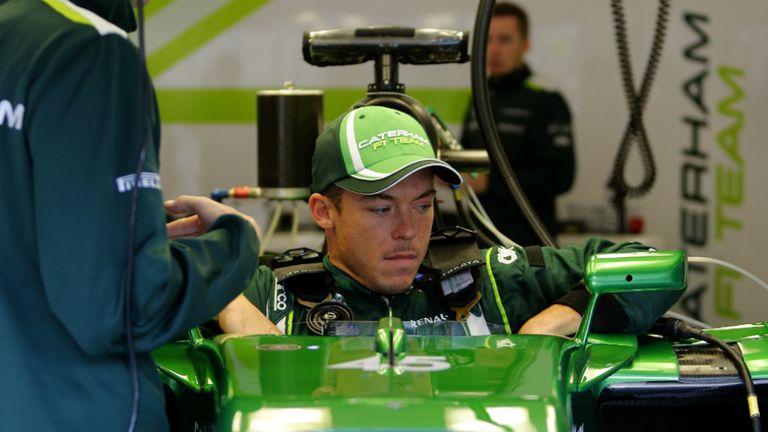 Caterham's decision to swoop is almost certainly explained by Lotterer's links with Colin Kolles and Christijan Albers, who now head the team after Tony Fernandes' decision to sell up.
And according to the driver, he has nothing to lose. "It's an unusual situation. The wins in other categories gave me the confidence as well to think, 'Ok, I have an established career on the other side," Lotterer added.
"It will be a steep learning curve, first of all, to get comfortable with everything and then I can think about maybe trying to do a performance. But don't expect too much from me.
"We'll try to do a weekend without mistakes initially; of course, if I have the opportunity to do something good, I do it. It's racing."