Sebastian Vettel bracing himself for a tougher title run-in this year
World Champ concedes engine penalty "inevitable" at coming races
By Mike Wise at Spa
Last Updated: 22/08/14 6:21pm
Sebastian Vettel is facing up to a season run-in that looks set to contrast sharply with last year's victory blitz, which got underway at the Belgian GP.
Vettel's success at Spa was the first of nine straight wins; 12 months on, however, the defending World Champion finds himself experiencing wildly differing fortunes.
His struggle to match new team-mate Daniel Ricciardo – he remains winless this season while the Australian so far has two victories to his credit – is well-documented, as are Red Bull's difficulties with the power and reliability of Renault's power units.
And it's the latter concern that is looming even larger for Vettel now, specifically the number of engines he's used so far.
F1 rules limit each driver to five per season without penalty and the German is now close to the limit having used four.
It could have been worse for him on Friday after ignition and then exhaust problems forced Vettel to miss the second practice session, fearful that he'd be forced to use a fifth engine.
Instead, his RB10 will run an engine from Red Bull's existing pool for the rest of the weekend while Renault are confident the problematic unit can be used again later on this season.
Even so, the situation is a stark reminder that a grid penalty, or penalties, likely lie just around the corner – which clearly won't help him take the fight to Ricciardo.
"It was a new engine," Vettel said on Friday afternoon. "Hopefully the engine is not damaged, that's why we didn't run. If it is then obviously we have to get another one out – not necessarily for this weekend but some weekends in the future."
He conceded that a penalty is "inevitable" and looking at the rulebook, it's easy to see why.
Article 28.4c of the Sporting Regulations limits drivers to five complete power units per season, with a complete replacement thereafter resulting in a pitlane start.
But with each power unit comprising six components, including the engine, then it's more likely that grid penalties – either ten places or five or perhaps even a cumulative demotion – will result.
The question facing Vettel is how many penalties he might incur. "For sure, we'll have to take another one. It was already clear before today so the question is how many we'll need," he said.
"It's inevitable for us anyway."
With Ricciardo ending the afternoon only eighth fastest, Vettel is bracing himself for a tough weekend in general.
"It didn't help not to collect any experience today," he added. "I didn't drive much except for a few laps this morning. I think we saw that it's not the best circuit for us."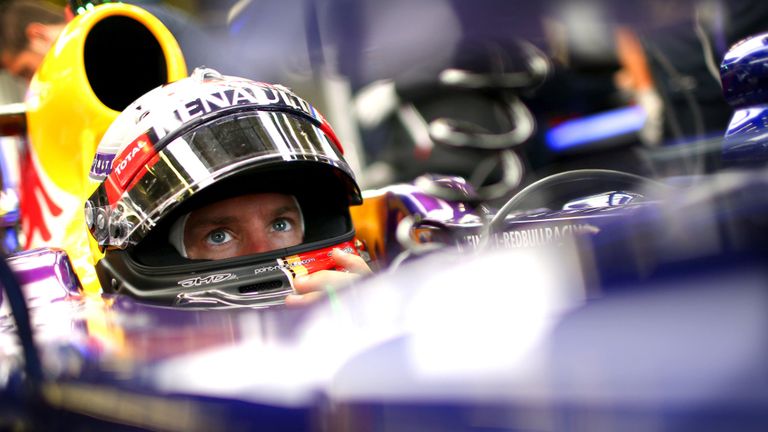 Meanwhile, Red Bull team boss Christian Horner has played down reports that he considers Vettel close to being 'burnt out'.
"I think it was a bit misquoted," Horner told Sky Sports F1. "What I was actually saying was he, like the rest of us, were pretty much ready for a break – especially after four championships where he's been hard at it.
"Not at all [is he burnt out]. He's been just dogged by bad luck, it's been incredible how much bad luck he's had this year. If something's gone wrong, like today, it's tended to be on his car.
"He just needs a clean run through the weekend."