FIA rule out investigation into the Nico Rosberg-Lewis Hamilton clash at Spa
Governing body regard incident as closed; Wolff threatens to get tough after Hamilton scoffs about Rosberg receiving a 'slap on the wrist'
By Pete Gill and James Galloway
Last Updated: 26/08/14 4:06pm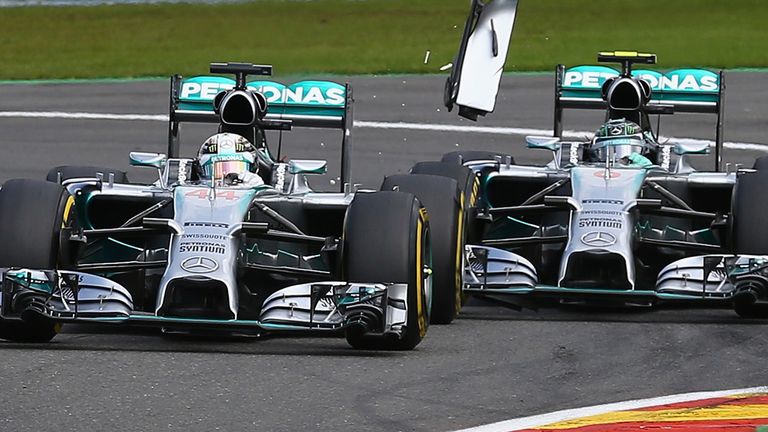 The FIA have confirmed they do not plan to launch an investigation into Nico Rosberg's actions in the Belgian GP despite Lewis Hamilton's claim his team-mate confessed to causing their crash during a Mercedes debrief.
According to Hamilton, his solitary title rival Rosberg "basically said he did it on purpose" when the two drivers were called to account by their team after the race.
However, the FIA regard the incident as closed after the Spa stewards adjudged the second-lap crash, in which Rosberg punctured Hamilton's W05, as a racing incident. Hamilton's explosive comments cast an altogether different interpretation on events, with close examination of the collision revealing that Rosberg suddenly swung back into the sister Mercedes in a second movement through the chicane, but the governing body have no plans to retrospectively review the clash.
FIA spokesman Pierre Regent told The Daily Mail: "The FIA will not intervene in this issue. Only a 'new element' that would have appeared after the results became final could justify us opening an investigation. A comment alleged to have been made in an internal briefing and later denied by the team itself does not constitute such a 'new element'."
Mercedes are yet to formally comment on Hamilton's allegations although a spokesperson for the team did confirm that the Englishman's account of their internal debrief was "broadly accurate".
Nevertheless, proving a case against the World Championship leader would be rife with difficulty. It is understood that Mercedes did not make a recording of Sunday evening's summit meeting and according to team boss Toto Wolff, who immediately condemned Rosberg's driving as "unacceptable" after the race, claims that the German admitted crashing deliberately "are nonsense".
A critical distinction appears to rest between Hamilton's testimony that Rosberg "said he did it on purpose" and Wolff's insistence that the German merely acknowledged "he could have avoided crashing but didn't to make a point".
With Mercedes refusing to elaborate further on what precisely was said inside the sanctuary of their motorhome, and a fine line existing between reputedly admitting to deliberately causing a crash and deliberately not avoiding a crash, there is no appetite at the FIA to launch a formal investigation. The tenure of President Jean Todt has already proved to be far less confrontational than that of predecessor Max Mosley while earlier this season the race stewards were themselves encouraged by the teams to adopt a more hands-off approach when adjudging incidents during races.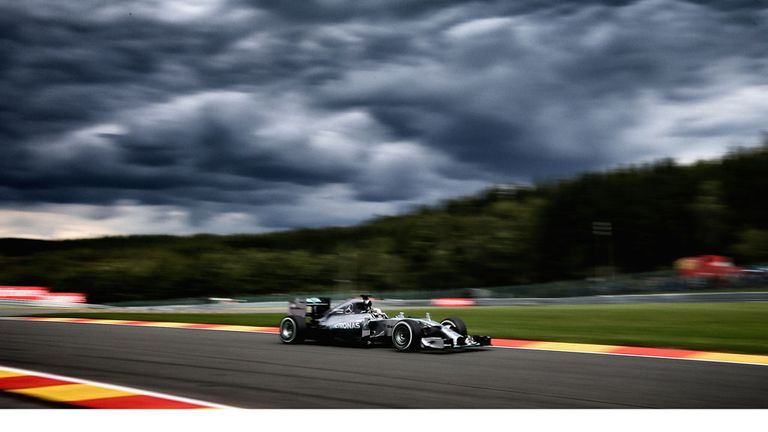 In retrospect, Mercedes themselves may regard that request with a degree of regret. The onus is now firmly on the World Championship leaders to put a lid on the fallout from the seemingly-irrevocable breakdown in relations between Rosberg and Hamilton, with the Englishman clearly sceptical about the prospects of the team punishing his title rival for a lapse that was, at best, an uncharacteristic aberration of judgement.
"It reminds me of being at school … teachers will talk but they don't do nothing," Hamilton retorted when told of Wolff's immediate post-race fury. "You just get a detention. They won't even do that. There's nothing you can do."
Told of Hamilton's response in a later interview, Wolff assured reporters: "If Lewis said there's going to be a slap on the wrist and no consequence then he's not aware of what consequences we can implement. [Mercedes can do] a lot. I'm not going to comment on this right now.
"Today we have seen the limits of the slap on the wrist. Maybe the slap on the wrist isn't enough."
One possibility is that the team will punish Rosberg by ordering him not to challenge Hamilton for victory in two weeks' time at Monza in the event of his rival taking the lead of the race.
"I am extremely upset because we have defined rules and we have broken those rules. I feel let down and I feel the team has been let down," added Wolff. "We are all fans and we owe it to everyone out there to let them race but today that philosophy has ended with Mercedes losing many valuable points and we don't want to end up in Abu Dhabi with a season [where] we lost a title because we are race fans.
"It is one thing enjoying great races and letting race each other but another looking like a fool at the end of the season if you haven't won anything."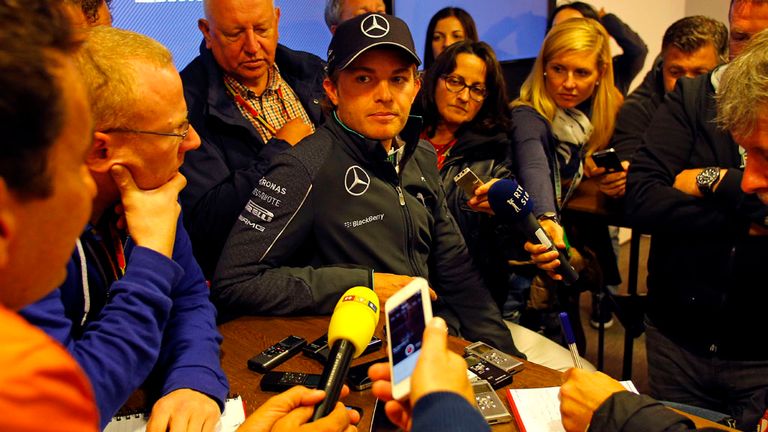 A second internal debrief into events at Spa is expected to be held when the Mercedes team reconvene for the two Italian GP next week, although the sense that the time for conciliatory talks is over was reinforced by Hamilton's description of the disastrous clear-the-air summit held at Spa on Thursday night following the team orders controversy of Hungary.
"It was interesting because we had that meeting and Nico literally expressed how angry he was," disclosed Hamilton. "I was thinking 'It's been three weeks you've been lingering [on this]'. He sat there and said how angry he was at Toto and Paddy."
In Monza, the anger is likely to run in opposite channels with the Mercedes management under mounting pressure to adopt a hard-line approach with their feuding divers as what ought to be a record-breaking season threatens to spectacularly derail in recriminations and rancour.
What happens now? The views of the Sky F1 pundits
Martin Brundle
"My interpretation of his words is 'I refuse to get out of the way' rather than going and hitting him. If you run into somebody – and they don't practice front nose and wing changes all-day long for no reason – you're guaranteed to break your wing, you're nowhere near guaranteed to puncture another driver's tyre, although it's possible. It seems to me he's saying that 'I deserved more space' – which he didn't. Unless you're fully alongside, the rules are the driver in front's allowed to take the normal racing line, although he can't force you off the road necessarily, and there is an escape road there.
"I think it also explains why Rosberg initially moved his car left and then slightly turned back in again actually, there was a secondary move. You can't see that front wing from the cockpit and we do see them broken quite regularly. Lewis has picked up on that – unsurprisingly given he's 29 points behind in the championship – and he wants to maximise the pain and destabilise his team-mate. He's got to do that."
Johnny Herbert
"It was outrageous. I think with everything we've seen and know about now, with Nico saying he didn't want to back out of a collision that was obviously going to happen – if you don't back out you're going to hit something. He's got history; we have to go back to 2012 where he actually drove Lewis Hamilton off the track in Bahrain, and Fernando Alonso in exactly the same race.
"Can they do anything in the team? I'm not so sure because as soon as you leave the drivers on the grid and they have to do their race, you can tell them over the radio, you can tell them before they get in the car, but they will only do what they want to do. They want to win a race, they want to win a World Championship. If the FIA can get involved that's another matter. I don't see how they realistically can because it's really down to the team to try and control it. But it's a very difficult thing to do."
David Croft
"I think there is a big distinction between a driver deliberately causing a crash and a driver saying that he didn't back out because he wanted to make a point. You've got to prove that he didn't back out because he wanted to make a point and also that it wasn't said in the heat of the moment to antagonise his team-mate. If the FIA want to reopen this case they're going to have to get the evidence as to what was said in the heat of the moment in that Mercedes debrief."
Anthony Davidson
"The rules say you have to have a significant part of the car alongside [to attack] but there's not a significant part alongside, he was never in a position to mount a challenge. It was clumsy driving from an experienced driver. There was a double movement on the wheel, [he] went to turn in once and then again and it was on that second time that the contact was made. If that was an inexperienced rookie driver, he would be hammered. Hamilton is on the normal racing line and Rosberg is an area where he had to back out. I can understand why people are so unhappy with the move."
Ted Kravitz
"If Mercedes nip this in the bud and make sure it doesn't happen again then it won't affect their chances of winning the Drivers' World Championship because the car is still the fastest one. Yes, the Red Bull is coming up, but there is still a bit too much room to be made up by Daniel Ricciardo. He is only 35 points behind Lewis Hamilton so it is possible that if they continue to clash like this they could leave the door open for Daniel Ricciardo to come through and win the World Championship – really that is the worst possible result for Mercedes and they want to make sure that doesn't happen.
"So I think actually this has come at potentially the right time for Mercedes if they can knock this on the head – give Rosberg a fine or a public dressing down, which I think is the most likely outcome, but make sure he does drive at the next race at Monza and for the rest of the season – then they can make sure this won't happen again and it won't affect their chances of winning the World Championship."
This week's Midweek Report will first be shown at 8.30pm on Wednesday on Sky Sports F1 with Reuters' Alan Baldwin and Alex Brundle joining Anna Woolhouse in the studio to dissect the Spa fallout