Speculation over McLaren's driver moves for 2015 and beyond continues at Monza
Jenson Button "massively relaxed" over his contract situation for 2015; Sebastian Vettel strongly hints he has been approached by team over 2016; Lewis Hamilton keen to extend his Mercedes stay
By James Galloway at Monza
Last Updated: 04/09/14 6:33pm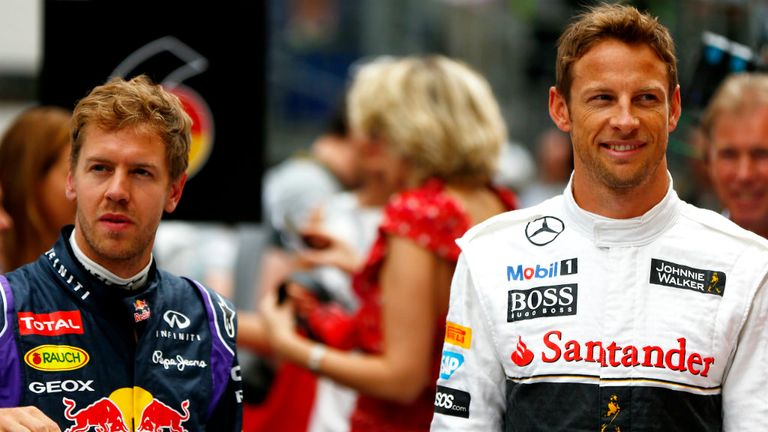 F1's McLaren-centred driver market proved the focus of attention away from the Hamilton/Rosberg saga on Thursday at Monza with Sebastian Vettel not denying that he had been approached by the Woking team while one of the two men in situ, Jenson Button, declared he was "massively relaxed" over 2015.
McLaren currently find themselves in the unusual position of having neither of their drivers confirmed for next season with over half of the current campaign completed. However, be it for 2015 or 2016 and beyond, the former World Champions have been linked with a host of potential replacements for incumbents Button and Kevin Magnussen, including F1's two most successful active drivers, Vettel and Fernando Alonso.
Ron Dennis refused to deny in an interview last week that McLaren were tracking the contract situations of both Vettel and Alonso as the team prepared to reunite with Honda power, although stressed that such star names "have to be available" for any such transfer to happen.
As it is, Vettel is contracted to Red Bull until the end of 2015 and Alonso, publicly at least, 2016 at Ferrari, with the Spaniard appearing to reaffirm his immediate future to Maranello earlier this week in an interview with Sky Sports News HQ when he said "it's not my intention at the moment to move".
Alonso's declaration was greeted with little surprise by Button, the man thought likely to be most vulnerable to any star arrival. "As his contract says and as Ferrari have said already," Button pointed out. "It doesn't change my cause at all. He was always staying at Ferrari. It doesn't change anything."
Button's sanguine response to Alonso's comments came after Lotus driver Romain Grosjean, a man who himself has been linked with a McLaren seat in 2015, had earlier suggested that the Ferrari number one remained the person holding up the transfer market..
"You have to wait for Ferrari and probably Alonso, from them the market will move," Grosjean told reporters. "I'm sure you're aware as much as I am, if not more, and so far nothing moves much. You can always do speculation. From what I know everyone has a contract in the other teams, big teams, and Alonso is kind of the key of the market."
Button, however, retorted: "[That] amazes me. I know drivers say they don't read the press – and we don't read the press when you say something horrible about us, we pretend we don't read the press – but that surprised me actually."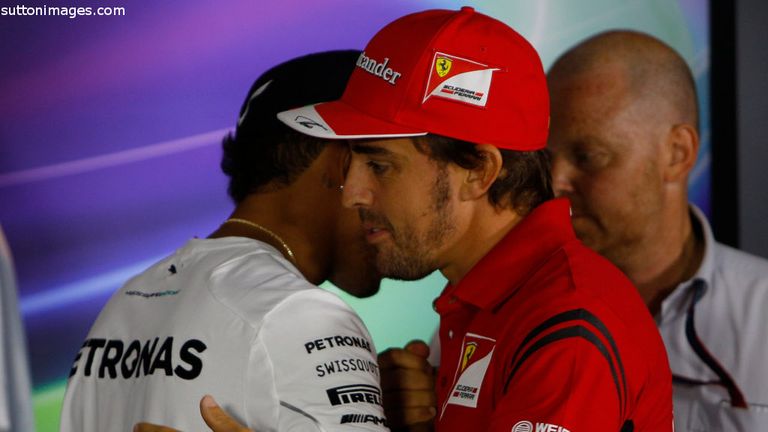 "I don't really think he's the key of the driver market, I think the two McLaren drivers are probably the key to the driver market."
The 34-year-old then added that he was "massively relaxed" about his own situation and wasn't fearing the end of his F1 career was approaching.
"It is not unsettling, that is probably the point I was trying to get across," he said of the speculation. "I have been racing for 15 years in Formula 1, it is not unsettling, the future will hopefully be positive next year and take the course I think it will and have thought it will all year and I don't think that is going to change either so I have no worries.
"But the questions get boring more than anything else. But in terms of my feelings about next year I do feel I will be racing next year."
Meanwhile, further up the paddock at Red Bull and World Champion Sebastian Vettel was asked squarely whether he had held talks with McLaren over a 2016 move. While at the same time attempting to bat away the speculation, the German strongly hinted that the Woking outfit had been in touch.
"I have never in public…that is something I am not talking to you guys about and I am not planning to change that," he said.
"I think I have my reasons. It is not the first time I have been approached in the last couple of years which obviously is nice, but it is not my style to share."
In any case with his contract with his long-time employers still having another season to run, Vettel, currently struggling to match new team-mate Daniel Ricciardo's performances, made clear he wasn't yet looking for a change of scenery.
"There has been a lot of talk. At Spa I heard on Thursday that I'd signed for £150 million for three years – I was asking where the pen was but nobody came back!" the German joked.
"I think it's normal that you have a lot of talks [in the media] but it doesn't change anything that we do on the normal regular day basis. Obviously we're not yet where we want to be, on particular my side, so there's a lot of work and a lot going on in the team which is my main attention.
"At the moment I have plenty of challenge to be honest. I'm not yet where I want to be so there's plenty of stuff to do. My situation hasn't changed; I'm happy where I am. But you never know what's happening in the future. As I said, right now I don't feel the need to do something different."
Former McLaren protege Lewis Hamilton's name has been more loosely linked with a 2016 return to the team, by which time the Briton's existing Mercedes contract would have expired. However, despite his current tensions with team-mate Nico Rosberg, Hamilton insisted in the Monza Drivers' Press Conference that he was looking to extend his stay at the dominant championship leaders.
"I still have a contract for another year on top of this one, so there is no rush. But I do want to say that I see my future with Mercedes. I'm really happy there," McLaren's only World Champion of the 21st century declared.