Romain Grosjean not surprised by Lotus's Monza struggle & doubts more 2014 points
Lotus lap slower than Marussia on Friday of trouble at high-speed Monza; Grosjean says fundamental aero issues won't be solved on E22 and development focus now on 2015 car
By James Galloway at Monza
Last Updated: 06/09/14 6:49am
Romain Grosjean has delivered a sombre assessment of Lotus's prospects at this weekend's Italian GP - and chances of adding to their meagre points tally over the rest of the season - after they were outpaced by minnows Marussia in practice on Friday.
While the sight of the Enstone-based outfit struggling for pace has not been unusual in the first year of F1's new turbo era, particularly in low-downforce conditions, their E22's plight on the opening day at high-speed Monza was especially pronounced with Pastor Maldonado and Grosjean ending Practice Two behind Marussia's Jules Bianchi in 18th and 20th positions respectively.
Grosjean, having sat out the opening session while the team gave test driver Charles Pic his practice bow in the current car, endured a particularly torrid afternoon with the nine-times podium finisher running off the circuit on numerous occasions as he struggled for grip and on the brakes at the end of the circuit's long straights.
And although the 28-year-old pointed to engine trouble and floor damage sustained in his excursion into the gravel at the Lesmos, he nonetheless admitted that Lotus's general travails didn't come as a surprise.
"It wasn't an easy day in general and certainly not an easy session. It's always hard to jump in the car in P2 when everyone has already got an hour-and-a half of driving," he told reporters.
"I was expecting that we would struggle here and was predicting that Marussia may be quicker than we are. They are quite good in low-speed, they were quite good in Monaco. They have the Ferrari engine which has made some good progress; on paper I don't think it's that much of a bad car around here.
"We had some small issues this afternoon. I had a problem with the engine, I went wide in Turn Seven and damaged some parts of the floor so it cost me some lap time in the low-fuel runs. But generally the car is not good in that type of track."
Grosjean therefore concedes that even escaping the first phase of qualifying is going to be a tall order for Lotus on Saturday.
"I think the challenge will be to go in Q2. We may be just on the cut off," he said. "We may find a little bit of performance for tomorrow, but in general it's going to be very tight.
"If I remove my engine problem the lap time would have been a good chunk faster, so probably with the Sauber and that means in front of the Marussia. But you never know what people are doing from Friday to Saturday. The only thing we can try to improve a little bit our difficulties, but there's no big surprise unfortunately."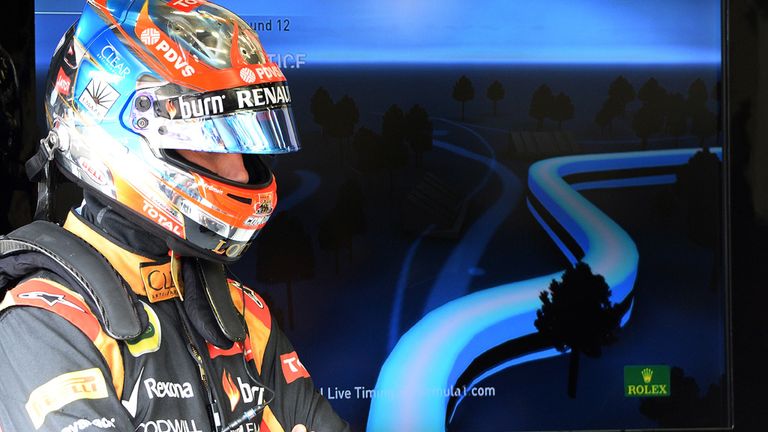 While the power problems with Lotus's Renault engine are well documented, Grosjean explained that it was a fundamental flaw in the E22's aerodynamic make-up which was being ruthlessly exposed in such low-downforce conditions.
"Actually, I managed to keep it on track once! I think I missed the second chicane twice and once very wide in the gravel, which is not too bad," he joked.
"But, no, we have some problems with the consistency of the aero balance of the car so sometimes you lose two per cent of aero balance, sometimes you lose the floor and it's those levels of downforce it's even harder to predict. So basically it's the problem we have had since day one and here it's just worse and here we have less downforce on the car and everything is more obvious."
To make matters worse, while Grosjean is confident that Lotus's engineers are aware of how to resolve the problem for 2015, the Frenchman says the aero balance issues can't be dialled completely out of the E22 before the current season is out.
"It's something we can certainly not 100 per cent solve for this year. But [it is] something that we are aware now a very long time. So at least we now have the tools that measure the problems and from there we can get better. But it came just before Spa where we had a correlation between wind tunnel, track and drivers' comment that some areas were not very good.
"We are behind schedule in terms of development of the car. We had to focus a lot on the power unit and the cooling and all that put us on the backfoot in terms of developing the performance when you are focused on other stuff. Then the car wasn't well born – after three laps I had problems. In Bahrain [at the test] after three laps I said 'Do I have a puncture at the rear?' 'No, everything looks okay'.
"For two years I was lucky to jump in the car, do three laps and the car was very good. This year it wasn't the case."
He added: "No offence to the team [for not solving it] because it has been the case for three years. With the blown diffuser and more downforce on the car we had before it was invisible to everyone. When it's invisible you don't notice it, but this year with the new regulations, harder tyres, lower downforce, the loss of the blown diffuser, everything that makes our strengths in the past is now our weakness."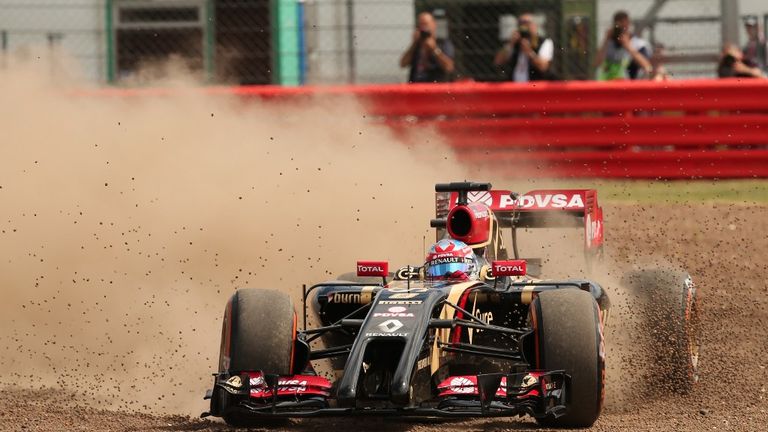 With their 2014 campaign proving an effective write-off, Grosjean admitted the team's designers were now working "on next year's car" at their Enstone base.
"Everything that we can find on next year's and put in that year's car will come, but there's no more development for this one," he revealed.
Asked if that shift in emphasis meant he feared Lotus won't be able to add to their measly eight-point haul for this season, Grosjean replied: "Probably with a typhoon in Japan… you never know!"
But on pure performance? "No".
Should that stark prediction come to pass then Lotus, ahead of only Marussia, Sauber and Caterham in the standings, will register their lowest points tally since the team's original Toleman guise in the mid-1980s.