Jenson Button says McLaren will still be at the back in Malaysia
Briton predicting "good gain in performance" but doesn't think it will be enough; McLaren qualified on the backrow in Australia
By William Esler
Last Updated: 28/03/15 1:08pm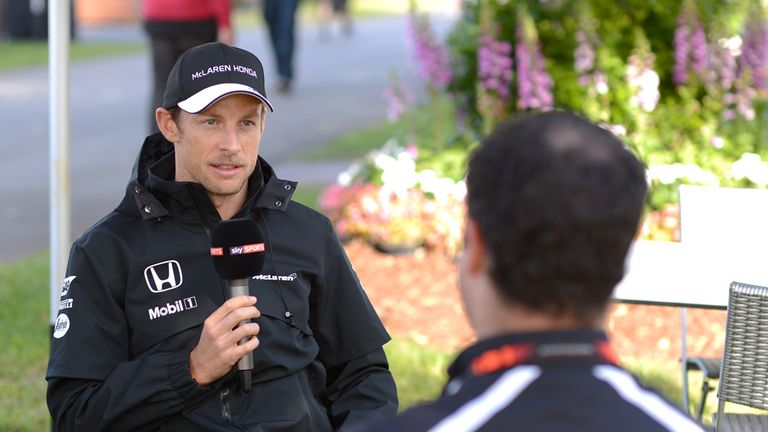 Jenson Button has warned that McLaren will still be at the back of the grid in Malaysia despite predicting "a good gain in performance".
After both McLaren cars qualified on the back row in Melbourne, the 2009 world champion trudged to the chequered flag in last place and was the only driver to be lapped twice. Matters were even worse for Kevin Magnussen, standing in for Fernando Alonso, in the second MP4-30 who suffered an engine failure on his way to the grid.
"I think we will have a good gain in performance, but still I think we will be right at the back and I am not sure we will be able to race anyone," Button told Sky Sports News HQ.
"We were a long way behind in Melbourne, so even if we have a reasonably big gain I think we will still be at the back, but hopefully a lot closer. We just need to keep seeing these big steps forward at every race.
"The temperature is tough and we have a lot of things that should help with that. Overheating was a bit of an issue for us with certain areas of the power unit and we will see what happens here."
Button admits failing to complete a race distance during pre-season testing made it difficult to predict how hot the car would become with their 'size-zero' packaging and thinks they may have been a little conservative in Australia.
"It is two weeks and you have a good understanding of what the car is doing in the heat of 18c in Melbourne and you can play around with it and add cooling and fans in certain areas that you think are necessary," he added.
I understand that we are now too far back and we will be heavily criticised, and it will be fair to receive that criticism because we are not at the level we will be.
Jenson Button
"For us, it was always going to be difficult. In winter testing we only did 12 laps so to get stable temperatures in 12 laps is very difficult so maybe in the race we were cooler than expected, but it is too late then."
Button will be partnered by Alonso at Sepang after the Spaniard was cleared by FIA doctors to return and the double-world champion knows the challenge which awaits him.
"I understand that we are now too far back and we will be heavily criticised, and it will be fair to receive that criticism because we are not at the level we will be," he said in the FIA Press Conference. "But [there's] nothing we can do now, just work.
"It's a long-term project and all my career I experienced some beautiful moments - even the last five years with Ferrari we didn't win the championship but it was a fantastic experience. But five was enough, I didn't want to be seven years second or third, so I prefer to risk and to challenge the victory even if you need to take some risks for the first year."
Alonso could be forgiven for thinking his risk had backfired after seeing the Scuderia emerge as best of the rest in Melbourne, but he has no regrets about leaving.
"Obviously, as I said, with the performance that we have right now, it's easy to criticise our team and my decision, whatever, but as I said, I'm first of all so so happy that this is the most important thing," he added.
"When you're happy with yourself or you're a healthy man inside, that is the first victory and that is what I am now, because I'm following my dream now. And secondly, I could wait and achieve some nice results as you've said probably yes, but after 14 years of Formula 1 and two championships, a podium or fourth place or fifth place is no longer a nice result."
Sky Sports F1 will show every session from the Malaysia Grand Prix weekend live and available on the move with SkyGo. The race starts at 8am on Sunday March 29, with comprehensive build-up underway from 6:30am.