McLaren happy with progress but fail to reach Spain top ten
Button fears points finish unlikely; Alonso narrowly out-qualifies team-mate after Button suffers brake issue at Barcelona
By Pete Gill in Barcelona
Last Updated: 12/05/15 2:03pm
McLaren have insisted they are making progress with their troubled MP4-30 car but conceded they are unlikely to score points in Spain.
Fernando Alonso will line up 13th for his home race, one place ahead of team-mate Jenson Button, and said immediately after the session that a top-ten finish in Sunday's race at Barcelona was "very possible".
However, sitting alongside Alonso in McLaren's late-afternoon media briefing, Button was rather more circumspect on the team's prospects.
"I want to have what Fernando had for breakfast!" laughed Button. "I don't know where we will end up, the top ten were very quick on their long runs on Friday."
Although the MP4-30 has been revised for the start of the European leg of the season, its power unit remains largely unaltered with Honda declining to use up any of their remaining engine tokens. The team's new engine providers are still to determine when, and at what rate, they will use up their allowance.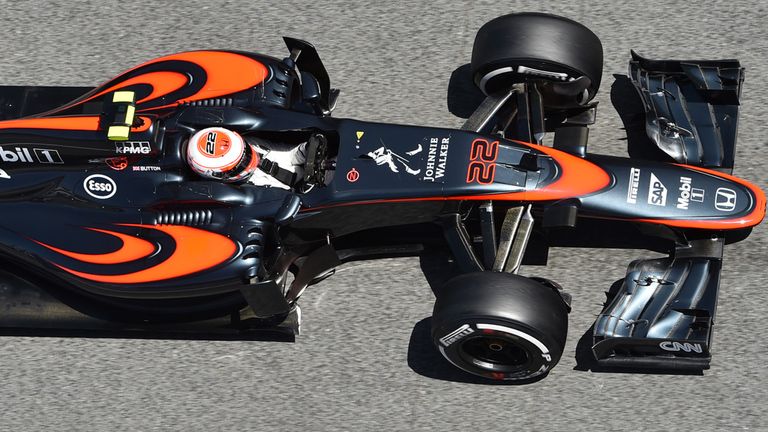 The team's drivers, meanwhile, face their own problems. Alonso is suffering from an eye infection, although the Spaniard insists it has caused him "zero problems" when driving, while Button was stymied by a brake problem in qualifying that ultimately proved the difference between the pair.
"The progress is good, but it was really frustrating as we put new brakes on for qualifying, but every time I got to Turn One it [the car] pulled massively to the left," Button told Sky Sports F1.
"The last run they told me to warm the brakes up in a different way, which meant they weren't warm when I started my lap and the first three corners I just had massive front locking.
"So it was a bit frustrating as it was going alright until then."
The consolation, of sorts, was the sight of both Saubers and Force Indias behind the McLaren, tangible proof of progress for a team which started the season-opening Australian GP rooted to the back of the grid.
"I'm happy with the progress, our pace has stepped forward and tomorrow we've got to make the best of what we've got," added Button.
The fact remains, however, that both of McLaren's former world champions were over a second away from reaching the top-ten shoot-out in Q3 with Mercedes a further one second ahead. The deficit remains disconcertingly large.
"I would say the Mercedes is faster everywhere, from when it leaves the pitlane to when it returns! We are quite a bit behind but we are also quite a bit behind in experience," said Button.
So why the perennially-smiley faces?
"If you were in this team you would understand why we are so positive. It doesn't happen overnight and if it did it wouldn't have been worth it because it wouldn't have been a challenge," said Button. "The challenge and excitement is seeing the improvements and knowing you are part of that."