Ricciardo rues brake problem
Daniel Ricciardo thought he could have finished seventh in the Korean Grand Prix but for a brake failure on his Toro Rosso late in the race.
By Mike Wise in Yeongam
Last Updated: 14/10/12 4:52pm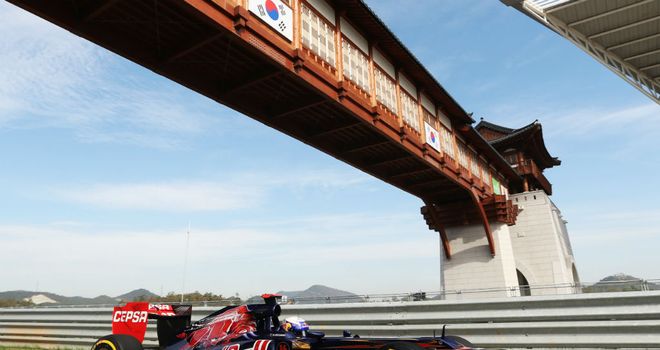 Daniel Ricciardo thought he could have finished seventh in the Korean Grand Prix but for a brake failure on his Toro Rosso late in the race.
The Australian scored his fourth points finish in five races on Sunday after overcoming the problem and then fending off the challenge of Lewis Hamilton to finish ninth.
Ricciardo's performance was all the more impressive given that a gearbox penalty imposed after qualifying placed him 21st on the starting grid.
The 23-year-old was in the points shortly after the first round of pit stops and there he stayed, even when the problem forced him to drop back behind team-mate Jean-Eric Vergne in the closing laps.
Vergne and Ricciardo were particularly quick in the fast opening sector of the lap and measured first and second respectively through the speed trap at the end of the long straight between Turns 2 and 3.
That advantage was the basis of their performance, one that Ricciardo described as "pseudo-competitive".
Even with the penalty, Ricciardo said he felt "pretty optimistic" of scoring points before the race started.
"I knew we had fairly long gears compared to the other guys on track so I knew if we got close enough in DRS, we had a good chance to overtake today," he said. "Keep my nose clean at the start, make a few positions and then get into a rhythm.
"Once the race started going I was in a good position, I think. I was 15th or something after a few laps and quite happy with how we were looking.
"We fought our way into the points and were running eighth with 10 laps to go, when I was struck by a brake problem unfortunately."
Ricciardo ploughed straight on at the end of the long straight when his front-right brake failed, sending his car lurching to the left.
"I went off very big in Turn 3 and was lucky there was all that run-off, otherwise it could have ended the race very quickly," he admitted.
"I somehow managed to bring the car home and be fairly strong but unfortunately lost the eighth position."
That place was lost to Vergne, with Ricciardo offering no resistance when the Frenchman drew alongside, again at Turn 3.
"I saw JEV get close and obviously I didn't - out of respect for the team - make it too hard for him and I knew with a few laps to go he would have got me anyway. I was braking very, very early," he said.
But Ricciardo still had Hamilton to contend with - the McLaren star grappling with an ill-handling car but also equipped with fresh supersoft tyres in the closing laps.
He gained respite in bizarre circumstances right at the end, though, when Hamilton's car caught a strip of astroturf that had been ripped up at Turn 13.
"With Hamilton right up my arse, I thought I'd fight for as long as I can but I didn't expect to hold him off either," Ricciardo said.
"I saw in my mirrors he was going further and further back. It was a small gift for the troubles we were having. I was grateful to finish and still be ninth."
But with Romain Grosjean eventually finishing seventh, Ricciardo could not help but speculate whether he might have caught and passed the Lotus driver during the closing laps.
"Ten laps to go, when I had the problem, I was getting quicker and quicker. Just before the problem I'd set my best lap of the race," he said.
"I think Grosjean at the time was maybe seven or eight seconds in front and it looked like he faded towards the end. Whether he backed off or had less speed, I don't know. It's easy to say 'if'."
Ricciardo is confident he can earn another points finish in India the weekend after next.
"At Monza, we were the last corner away from points and 10 laps away from better points. We've definitely got something going right now, I'm racing really well and happy with my performance," he added.
"In terms of pure performance, this was our best weekend maybe of the year, or at least for a long time this year.
"I'm definitely confident for India."