Daniel Ricciardo and Jean-Eric Vergne to continue at Toro Rosso in 2013
Young duo given a second season to impress Red Bull chiefs
Last Updated: 31/10/12 6:28pm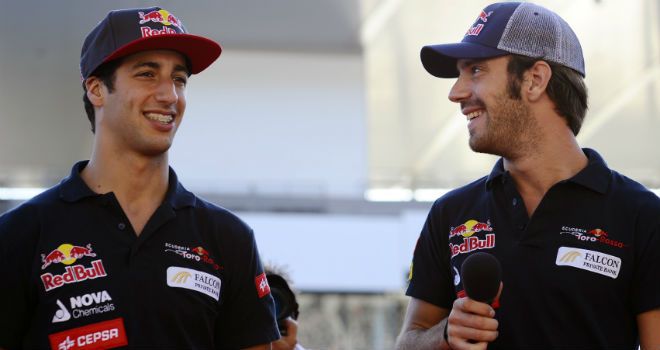 Having dropped their previous line-up of Sebastien Buemi and Jaime Algersuari to accommodate the new young pairing this season, Toro Rosso had been expected to stick with the duo for next year as they continue to assess their suitability for any future Red Bull Racing drive.
Although Frenchman Vergne in particular has at times struggled in his rookie campaign, falling at the first hurdle in qualifying on numerous occasions, Team Principal Franz Tost says he has been happy with both drivers' performances - particularly since the summer break, when both drivers have finished in the points at several races.
"Both drivers have done a good job this season," Tost said.
"Daniel joined us with a few Grands Prix under his belt and so his feedback and experience was particularly useful while Jean-Eric got up to speed, often having to deal with tracks he had never seen before.
"Since the summer break, both drivers have scored more points and everyone in the team has been impressed with their maturity in terms of working with the engineers and their racecraft on track.
"We will be doing our best in the next few months, to produce a 2013 car which will allow them to demonstrate their talent."
Ricciardo, who had a part season under his belt with HRT in 2011, has scored points in four of the last six events and is expecting further improvement from both himself and the team next season.
"I am really pumped to know that I am continuing with Scuderia Toro Rosso for another season and want to thank the team and Red Bull," the Australian said.
"There are big expectations for next year and I'm ready and willing to fulfil them.
"I feel I have been growing and developing as a driver and my approach to the technical side of the sport has also progressed this year, so I am sure that will serve me well in my second season with Toro Rosso.
"We have had quite a tough season, but despite that, I have always enjoyed a good relationship with all the guys and I am delighted at the idea of working with them for another year."
Vergne, meanwhile, acknowledged that his first season at the top level had been far from straightforward but feels he has progressed since the his debut in Melbourne.
"I am really happy about this great news. Thank you Toro Rosso and thank you Red Bull, who have backed me since the early days of my career," he said.
"It has been a difficult season and, as a rookie, I have learned a lot, thanks to the support I got and the excellent relationship I have enjoyed with all the guys. I feel much stronger now and I know I have become a better driver over the course of the season.
"I really believe in this team and with all the experience I have gained, combined with the team's ambitious plans for next year, I think we can look forward to great things in 2013, attacking all the way."
The 2013 grid so far:
Red Bull: Sebastian Vettel and Mark Webber
McLaren: Jenson Button and Sergio Perez
Ferrari: Fernando Alonso and Felipe Massa
Mercedes: Lewis Hamilton and Nico Rosberg
Lotus: Kimi Raikkonen and TBC
Sauber: Nico Hulkenberg and TBC
Toro Rosso: Daniel Ricciardo and Jean-Eric Vergne
Still to be announced:
Force India, Williams, Caterham, Marussia and HRT.