Jean-Eric Vergne expecting more from both Toro Rosso and himself in 2013
Frenchman says changes on the new STR8 are "massive"
By James Galloway
Last Updated: 07/02/13 7:51pm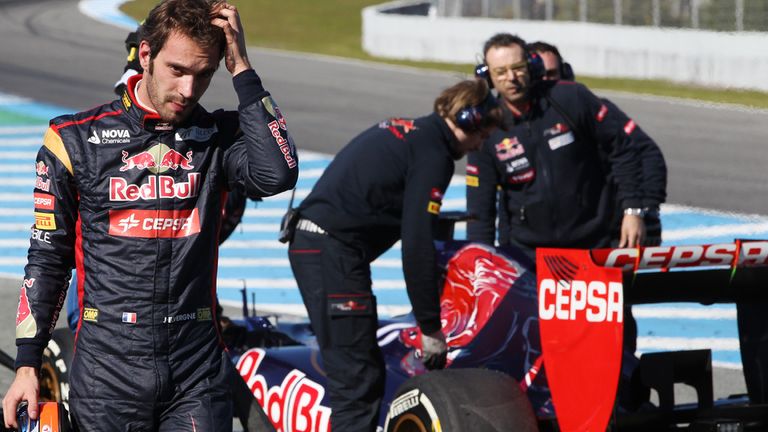 The Red Bull junior outfit finished in an effective 'no man's land' in last year's Constructors' Championship, comfortably clear of Caterham but distant challengers to their usual midfield rivals.
But following the arrival of highly-regarded technical chief James Key towards the end of 2012, and the creation of an STR8 car they believe will give them access to a wider set-up window, Toro Rosso this week outlined the ambitious target of finishing sixth in this year's standings.
Vergne drove the new car for the first time at Jerez on Thursday, completing 85 laps, and afterwards gave an upbeat assessment on the team's chances of moving forwards this year.
"The changes are massive on the car," he told reporters after finishing the day fifth on the timesheet. "There's only good people working in the team now, the changes went in the right direction.
Asked if it meant the team were in better shape for 2013, Vergne replied: "Oh, yeah. Definitely."
Vergne himself experienced a turbulent rookie campaign at the top level last year - particularly in qualifying, when he dropped out of Q1 on a regular basis in the first half of the season.
But with a year of F1 experience under his belt, the 22-year-old admits he should be a stronger force in year two.
"Of course [I feel] much more confident. I feel like I'm a better driver, much more experienced and my understanding of the car is much better than last year at this time," Vergne explained.
"Everything comes to my brain, not much quicker, but it goes to another side and that's understood. So I lose less time in understanding things."
In terms of the new car, Vergne said his first day had been spent testing certain parts, rather than working on finding the best set-up for the track.
"It's a brand new car. We didn't bring anything from the STR7 to this car," he added.
"The feeling is of course different because of the tyres but so far it's good."
With a number of new concepts on the 2013 challenger, the Frenchman said getting on top of everything as quickly as possible was the main priority.
"I think the biggest area we need to work is just the understanding of the car," Vergne summarised.
"Once we understand every little thing on the car, what they can do, we will be able to give ourselves a much better car - and that's what matters."