Daniel Ricciardo's battle with Jean-Eric Vergne swung the Australian's way on Saturday
23-year-old lines up fifth for British GP; team-mate down in 12th
By Mike Wise at Silverstone
Last Updated: 30/06/13 8:52am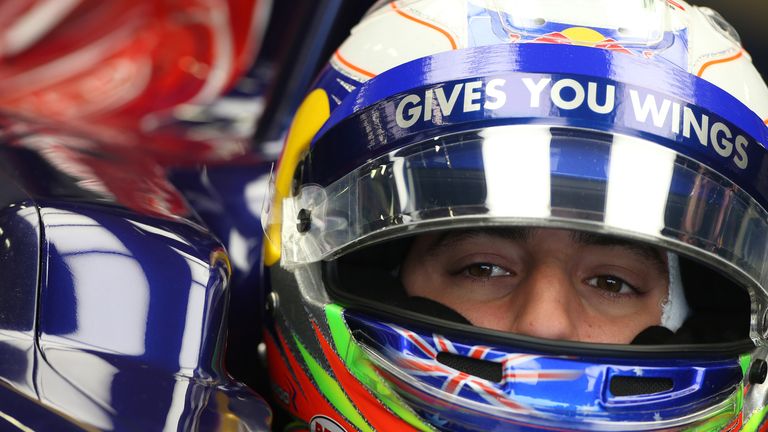 Ricciardo's duel with his team-mate has been placed well-and-truly under the microscope now Mark Webber's seat at the World Champions is up for grabs. It was the Perth driver who drew blood at Silverstone on Saturday after he set the sixth fastest time while Vergne languished down in 13th.
Both move up a place as a result of Paul di Resta's penalty, meaning that Ricciardo now lines up a career-best fifth on the grid. The world and his F1-loving wife might have sat up and paid more notice of Toro Rosso's youngsters this weekend and yet big brother, it seems, is always watching.
According to Ricciardo, headline-grabbing times like the one he set on Saturday matter little in the search for Sebastian Vettel's new team-mate. By the sounds of it, though, an even better race result might be a different matter.
"Whether it's the beginning of this year or last year, we're always being watched. All our results, everything we do, is always being monitored," said Ricciardo.
"Just because it's there now, I don't think it changes things very much. They've always been watching us. Okay it's come at the good time - and I needed it, because two races didn't go well for me - but I don't think anything's really changed.
"It shows that when we get the car right and get things going well we can be quick. It's nice to confirm the speed I know I have.
"I'm definitely not going to rest on today. Tomorrow is more important."
Both Ricciardo and Vergne had featured in the top ten all weekend prior to Saturday afternoon. The Frenchman had looked set to make Q3 as well before taking to the grass at Chapel curve on a flying lap.
Asked to explain why Toro Rosso were putting such a good weekend together, Ricciardo said that, from his own point of view, a productive Friday's running had been crucial.
The 23-year-old explained that he had too often made steps in the wrong direction when trying to set up his car.
"We've had a couple of little updates but nothing massive we could actually advertise - just to find a little bit more downforce," Ricciardo said.
"Since Canada, I spent a bit of time with my guys - we had to reassess a few things. For sure, things went well; I think we've taken a little bit of a different approach, basically not throwing things at the car and thinking it's going to help.
"Let's just see what happens. Let's not chase our tail too much."
Ricciardo also acknowledged that tyres may have played their part and he is hopeful that a warmer forecast on race day will help him even more.
"I guess for us over a short run it's been good - sixth is the worst we've been all weekend," he added.
"I think tomorrow's going to change. Yesterday, I wasn't particularly pleased with my long run. Tomorrow's x degrees hotter and the tyres are going to behave completely different."
Both drivers have risen to the occasion this weekend. Yet Vergne, who finished a career-best sixth last time out in Montreal, can consider himself unfortunate in falling by the wayside.
As the 23-year-old explained: "I think it was a bit of bad luck. I was behind Vettel, just lost the downforce and went straight on the grass.
"I was doing the same times as Daniel at that moment. It's a big shame. I'm p*ssed off not to start tomorrow's race a bit more at the front, but on the other hand we have a good car and the pace is good."