Daniel Ricciardo says he's not intimidated by the thought of partnering Sebastian Vettel
Aussie says success makes him even more excited to be joining Red Bull
By Mike Wise in Sao Paulo
Last Updated: 22/11/13 8:08am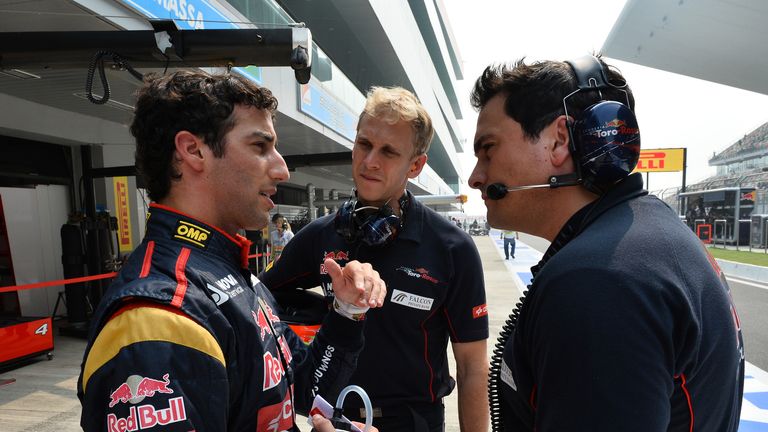 The World Champion is currently in the form of his life and could equal the all-time record for consecutive race wins assuming he claims his ninth straight victory in Brazil this weekend.
Yet Ricciardo, who is switching from sister team Toro Rosso after the season finale, is not exactly fazed at the thought of a direct comparison.
"It makes me more excited to be honest," he insisted on Thursday. "I said before that if I can mix it up with him then that looks me better as well. The more success he's having, it's nice to see actually.
"At least I'm going to get the best Seb possible and I'll know the truth - if some people say I'm as good as they say I am, or as good as maybe I believe I am."
No sooner does Ricciardo touch down in the U.K. after the Brazilian GP than preparations will start in earnest for 2014. "It's all going to kick off pretty much next week," he said. "I'll have a bit of an introduction to the team, get them all in the factory and introduce myself for those who don't know me yet and just tell them how motivated I am and ready to go."
The 24-year-old, who replaces Mark Webber, also said that he and his fellow Australian have agreed to keep advice down to a minimum.
"He's been giving me bits and pieces. I've spoken to him a little bit and I've told him, obviously in the most respectful way possible, that I'm happy to go into it myself and try and work things out for myself," Ricciardo stressed.
"We're at different times of my career and I'm happy to go in with an open mind.
"He's basically said, 'Go out and have fun. I've earned the seat so I'll just keep doing what I'm doing, don't get overwhelmed by it all...and kick some a*se'."
With Webber bowing out of F1 this weekend, Ricciardo also spoke of how watching his countryman's first race in Melbourne back in 2002 had inspired him.
"I was very excited to see an Australian doing what he was doing. It still seems crazy now - you think, 'Fifth in a Minardi?' It's like a Marussia getting a top-five this weekend or something," he added.
"He basically just gave us Australians hope and motivation to over to Europe and make it work. That's the biggest thing he gave us."