It's a big year for...Jean-Eric Vergne
Passed over for the big seat at Red Bull, the Frenchman embarks upon his third season at Toro Rosso - and needing to make his mark
By Mike Wise
Last Updated: 10/03/14 12:12pm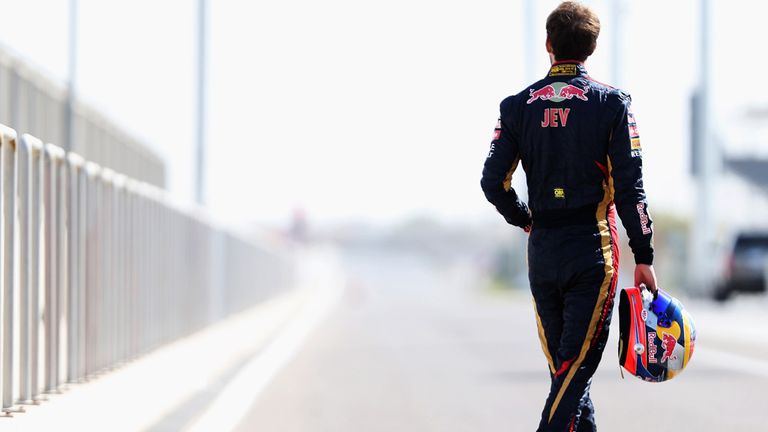 And if that's so, then the sight of the 23-year-old appearing like a man on the outside looking in during the second half of last season was certainly ironic. Both Vergne and Daniel Ricciardo were initially mentioned for the most prized vacancy in Formula 1 but only the Australian made the second interview. Soon enough, Ricciardo was heading for the big time and that grin of his suddenly had more wattage than an ERS system; the press couldn't get enough of it. Meanwhile, playing to much smaller audiences elsewhere in the Red Bull Energy Station, Vergne was putting a brave face on it.
In truth, the Frenchman did rather more than that, appearing unruffled and dignified after Red Bull ruled him out of the running for Mark Webber's seat. But it must have hurt - even though Ricciardo, by virtue of his age and greater experience, was seen as being slightly farther on down the conveyor belt. The pair clearly got on well during their two years together but behind the easy smiles beat ambitious hearts and there's no doubt that Vergne would have seen his team-mate as a scalp - another Red Bull 'bright young thing' serving as a measure of his own progress. In that context, not getting the seat would have seemed a failure.
Having come to terms with the disappointment, therefore, Jean-Eric must look at how he might progress his career now Route One has been barred. That will remain the case in the short to medium term - unless, for example, Ricciardo proves a Sergio Perez-style one-season wonder. And then there's Sebastian Vettel's future to consider. The World Champion's current contract expires at the end of the 2015 season but all his most recent utterances on the subject have suggested that he's more than happy to stay put. But even if Vettel did leave, and assuming Ricciardo made the grade, might Red Bull prefer to lure a driver in the 'superstar' mould?
The future is unwritten, so Vergne would probably be better off concentrating on the here and now. For a start, there's a whole raft of technical changes to absorb and adapt to, while he must also assume the greater responsibilities of leadership at Toro Rosso by virtue of his two years of racing experience in F1. Allied to that, of course, is the youth of his new team-mate; however hard it is for some of us to comprehend the passing of 'spring chicken' status for someone born in the 1990s, Vergne himself must now adapt to the inevitable passing of time and arrival of the new kid in Faenza. And that's what Daniil Kvyat is. The Russian teenager's announcement might initially have been greeted with puzzlement but he's since burnished his promise by winning the GP3 title and also putting in a couple of assured (if brief) practice appearances.
In short, then, he needs to make his case by leading the team while also asserting himself over the upstart. There are plenty of once promising young drivers who will attest to Red Bull's habit of lumping them as yesterday's man in the blink of an eye and so Vergne cannot afford to be passed over again. But even if he isn't, there's no guarantee of advancement in the longer term. It's a potential Catch-22 for Jean-Eric.
@SkySportsMike