Toro Rosso reportedly completed 'rolling road' test on eve of the 2014 season
Report claims anonymous letters were sent to the FIA and rival teams; Red Bull deny their car was used as report suggests Toro Rosso completed the legal 'rolling road' test in question
By Sky Sports Online
Last Updated: 07/06/14 12:03am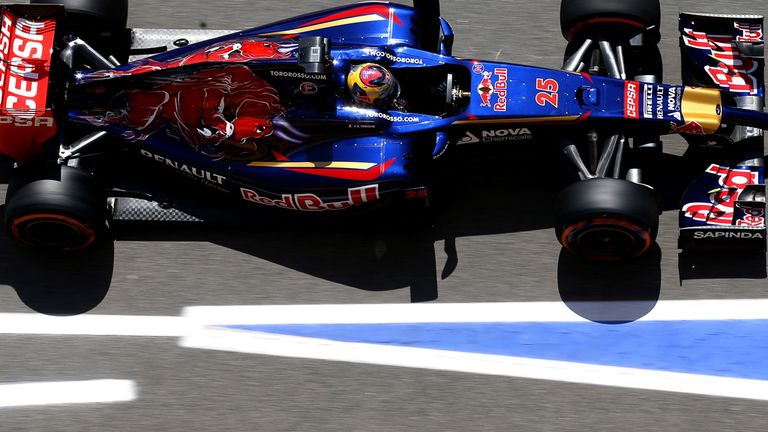 AutoBild claimed that anonymous letters were sent to the FIA, Ferrari, Mercedes and Sauber accusing 'a Red Bull-Renault team' of performing the test on a 'rolling road' at the premises of AVL, a company that specialises in developing and testing powertrain systems, in Graz, Austria.
It is alleged the test took place after the final pre-season test in Bahrain and prior to the opening race in Australia. However, Red Bull told Sky Sports F1's Ted Kravitz that their RB10 wasn't used.
Toro Rosso and Renault have yet to comment, with the report claiming that it was in fact the Italian outfit's chassis that was used.
Although the Bahrain test was the last teams were able to take part in before the start of the season, they would still have been allowed to test their cars on rigs such as a 'rolling road' in certain circumstances.
The reliability problems both Red Bull and Toro Rosso experienced with Renault's new hybrid power unit were well documented at the time, and Appendix 8 of the Sporting Regulations makes allowances to test a car - as opposed to a model - on a rig providing no aerodynamic measurements are taken.
The car's front and rear wings must be removed - which Toro Rosso did, according to the report. Furthermore, it claimed that the car was not placed in an airflow.
Wind tunnel testing is limited to models of 60 per cent size under the rules, but another exception is made in order to develop components associated with cooling or the running of the engine - again, provided no aerodynamic measurements are taken.
The report therefore concludes that the test was legal, but adds that the 'mystery of the anonymous letter writer remains'.
"Let's just say that test was conducted, then it was completely within the regulations, absolutely, there is no doubt about that," Christian Horner told Sky Sports F1.
"As with any dyno test it depends how the engine operator operates, but with new technology if something is learnt then all the customers would benefit. That is the reason you go dyno testing and that is the way Renault have operated."
However, Sauber, who would see themselves as direct rivals of Toro Rosso, were not happy at being kept in the dark.
"We didn't know about this before, we just learnt about it through this communication," Monisha Kaltenborn said.
"Before we all really have some opinion on this we would like to discuss it with the federation [the FIA], because they have been informed, and see what the situation is."