Schuey not dreaming of win
Michael Schumacher has ruled out talk of victory in Sunday's Australian Grand Prix and said he is eyeing a podium finish at best.
By Mike Wise in Melbourne
Last Updated: 17/03/12 11:09am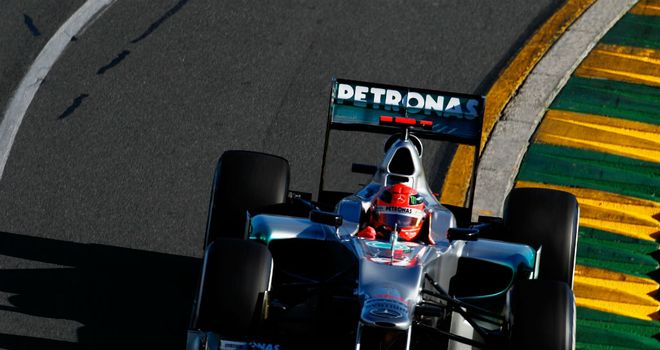 Michael Schumacher has ruled out talk of victory in Sunday's Australian Grand Prix and said he is eyeing a podium finish at best.
The seven-times World Champion gained the most impressive qualifying result since his comeback at Albert Park, fourth place, and now has his sights set on his best race finish since returning with Mercedes in 2010.
To do that, he has to improve upon fourth place but in a car both he and team-mate Nico Rosberg described as a real step forward, Schumacher sounded optimistic.
"I'm not dreaming too much of winning this race. We are fourth but we have strong guys in front of us," he said.
"Hopefully we'll have a chance to jump on the podium - that's not completely unrealistic; to win from where we are, it's too early to really talk about that. We'll wait and see."
Schumacher, who had earlier spun out of the final practice session, briefly looked set for a front row start alongside McLaren's Lewis Hamilton before being pipped by both Jenson Button and Lotus's Romain Grosjean.
Improvement
Mercedes' improvement had earlier been underlined in Q2 when Nico Rosberg and Schumacher set the two fastest times.
However, the McLaren pair pulled out a gap in the final session with Schumacher admitting that the pace of both Hamilton and Button had surprised him.
"I was surprised to see the difference they pulled from Q2 to Q3," he said. "I didn't really expect such a step as everybody was close basically the whole weekend, but then suddenly in Q3 there was a bigger gap."
Rosberg, who will start seventh after locking up at Turn 3 on his final flying lap, speculated that McLaren's pace had been hidden because they "were out early in Q2 and the track ramped up quite a lot in that session".
Regardless, both men said they were happy with the performance of the W03, which also showed strongly over long runs during pre-season testing.
"Since day one when I went in this car, it was very obvious it was much more to my liking," Schumacher said. "If you look at the steering, the manoeuvres you have to do to do corners are probably half what I had to do in last year's car.
"It's definitely much more of a racing car, that I can feel and drive and do what I want to do. That was clear since the beginning, through all the winter testing that we've done and through the weekend here."
Positive
Rosberg added: "In general it's been a positive day today. As a team we're moving forward, much closer to the front and that's great news.
"Also, I feel there's some way to go, from what we have and how to get the most out of it. Maybe the others are in the same situation but definitely I can say that we have some way to go.
"So all this together, we're looking much better and as I've been saying all the time, it's really important that we progress towards the front and we're doing that for sure, so that's great."