Rosberg out to overtake
Nico Rosberg has said he hopes to make full use of Mercedes' straightline speed advantage in Sunday's Malaysian Grand Prix.
By Mike Wise at Sepang
Last Updated: 24/03/12 3:23pm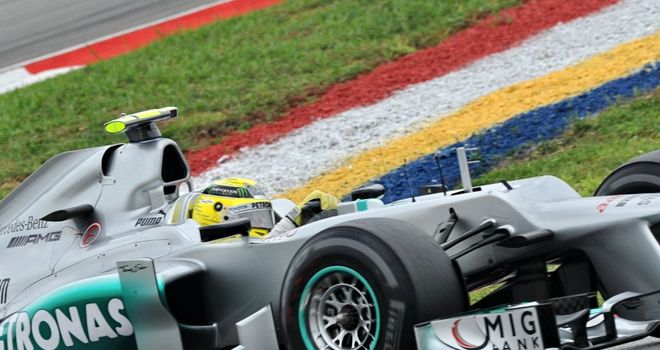 Nico Rosberg has said he hopes to make full use of Mercedes' straightline speed advantage by coming through the field in Sunday's Malaysian Grand Prix.
After going fastest in third practice earlier on Saturday, the German could not produce a lap time when it really mattered at Sepang - Rosberg instead flat-spotting his right front tyre at Turn 1 during his final flying lap.
Having set the eighth fastest time, Rosberg moves up a place on the grid following Kimi Raikkonen's five-place grid penalty and will look to make early gains in the race.
Both he and team-mate Michael Schumacher have consistently set the fastest times in the track's first sector this weekend, where a high top speed reaps dividends.
Advantage
Certainly the Mercedes W03 has an advantage over the Red Bull in that regard, with the latter's Sebastian Vettel and Mark Webber respectively lining up fourth and fifth.
Together with Lotus, for whom Romain Grosjean starts directly ahead of Rosberg, Red Bull are questioning the legality of Mercedes' DRS-activated wing stalling device, which gives their car a straightline speed boost.
"I look forward to overtaking, definitely, tomorrow," Rosberg said. "I think we have a good speed advantage. I have a good speed advantage over the people in front, so that should definitely help with overtaking."
Of his Q3 effort, Rosberg said: "It just wasn't a great lap today unfortunately." He also wasted a set of tyres in the previous session when Pastor Maldonado ran his Williams off the track.
"Maldonado went off right in front of me and there were yellows everywhere, so I decided the best thing would be to lift off enough and that wasn't going to be a quick enough lap. So that cost me a set there," he said.
Although Mercedes feel they have made a step forward this year, their race in Melbourne was, to say the least, disappointing, with Schumacher retiring early and Rosberg finishing out of the points.
The younger driver suffered a puncture on the last lap at Albert Park, but he was also hampered by tyre degradation.
Unsure
Although hopeful that setup changes will help him in that regard on Sunday, Rosberg admitted that he was still not entirely sure what might happen in a race that promises to punish tyres.
"It's not an easy thing to help, so we've done a lot of work for it, a lot of changes, to improve that situation. So I'm confident that we can do better but as I say, I really don't know if it's enough yet," he added.
"So we need to see for tomorrow if everything that we've done has really been a big enough step."