Mercedes happy with improved pace in Korea
Team say car is more competitive in Korea than Japan
Last Updated: 13/10/12 8:38am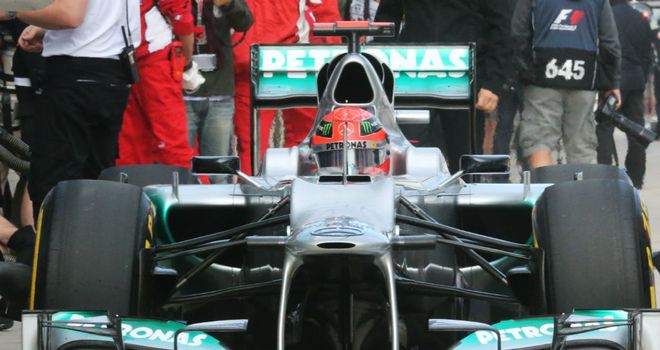 The German marque struggled at Suzuka last weekend, with the team off the pace and falling back into the lower etches of midfield, allowing Sauber to close in the Constructors' Championship in the battle for fifth.
An enthusiastic Michael Schumacher said the team's pace in Korea was not unexpected as he anticipated the Korean International Circuit suiting the F1 W03.
"I was pleased with both sessions today," the veteran said after finishing P2 fifth fastest.
"As expected, it looks like our car is better suited to the circuit. The day went well, so I think we can get into the top ten tomorrow and plan our strategy on that basis. We have made some small changes, nothing major, and we looked ok on our long runs. Of course, I haven't been able to study the times from the other teams yet, but we will try to secure a solid result this weekend."
Team-mate Nico Rosberg was equally positive after finishing seventh in both sessions.
"It was a good day for us and we made some progress over the two practice sessions," the Germand said.
"We had some small new things to try on the car which worked quite well, and we seem to be looking better here than in Suzuka. So I'm looking forward to tomorrow and seeing where we are compared to the other cars."
Ross Brawn, though, was not getting carried away insisting that whilst the single-lap pace was promising improvements must be made to the team's race pace.
"We've had a very solid Friday working through our planned programme and were able to complete a lot of running," Brawn added.
"The car seems reasonable on lower fuel levels, although there is still work to be done on high fuel. The grip evolves very rapidly here and I expect we will have a different track on Sunday to the one that we saw today, so we need to try and anticipate that. Overall it's been a pretty reasonable day."
The day did finish on a sour note for Mercedes, however, with Schumacher handed a reprimand for impeding HRT drivers Pedro de la Rosa and Narian Karthikeyan.