Michael Schumacher believes Norbert Haug's Mercedes exit creates 'massive hole'
Retiring driver says German's departure "marks a big break"
By James Galloway
Last Updated: 14/12/12 10:09am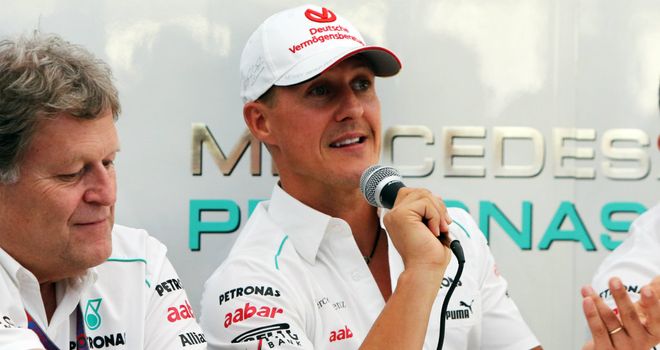 The seven-time World Champion, who retired for the second time after last month's season-ending Brazilian GP, had a long-standing relationship with Haug and Mercedes dating back to the time when he was one of the German manufacturer's young sportscar drivers.
After an initial three years in retirement from F1, Mercedes in 2010 enticed Schumacher back to spearhead what they hoped would be an assault on the World Championship although the three-year comeback ultimately failed to hit the anticipated heights.
Significant changes for 2013 were already underway at the Brackley team with Schumacher being replaced by Lewis Hamilton, before on Thursday Mercedes announced that Haug would relinquish his position as their head of motorsport at the end of December after 22 years at the helm.
Speaking on his official website in wake of the news, Schumacher said the parting of the ways was a milestone moment.
"Since I entered professional motorsport, Mercedes and Norbert Haug together were part of it, so this step will mark a big break," Schumacher said.
"We spend a lot of years together, being sporting combatants or allies, and Norbert has always been into this with full enthusiasm and wholeheartedly.
"He was living motorsports, and him leaving will tear a massive hole in both our sport and our team."