Michael Schumacher says Lewis Hamilton has joined Mercedes at a good time
Ex-driver says team now have platform to "fight on several fronts"
Last Updated: 08/01/13 10:55am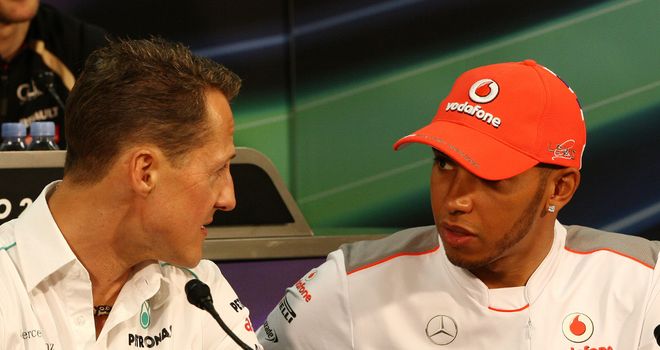 Hamilton officially joined Mercedes from his long-time McLaren home on January 1 and although has already written off his chances of challenging for the title in 2013, believes he can achieve longer-term success over the course of his three-year deal with the team.
Mercedes have won just a single race since creating their own works team three years ago and slipped off the pace as last season progressed.
But Schumacher, who has been replaced by Hamilton alongside Nico Rosberg, believes the team now have the infrastructure in place to manage multiple projects at the same time.
"In the first two years we definitely did not have the capability to fight on several fronts," the seven-times World Champion was quoted by The Sun as saying.
"If there were problems we had to take care of them so the development process was interrupted.
"Only now is there a structure that enables both. It's a strong structure for 2013 and beyond."
Schumacher added that the 2013 car and subsequent in-season development process will be the first to benefit from the improvements.
"The car we had last year was built under the old conditions," he said. "I'm talking about quantity, not quality. That has always been the reason why development stagnated."
Mercedes team chief Ross Brawn recently pointed to a revamp of the Brackley outfit's aerodynamic department during the course of 2012- which saw Mike Elliot join from Lotus and an upgrade to the team's wind tunnel - as the reason why the development of the W03 went askew.