'Mercedes can win in 2013' insists Lewis Hamilton on his first day with new team
Lewis makes his first appearance at Mercedes' Stuttgart base
By Pete Gill
Last Updated: 22/01/13 4:13pm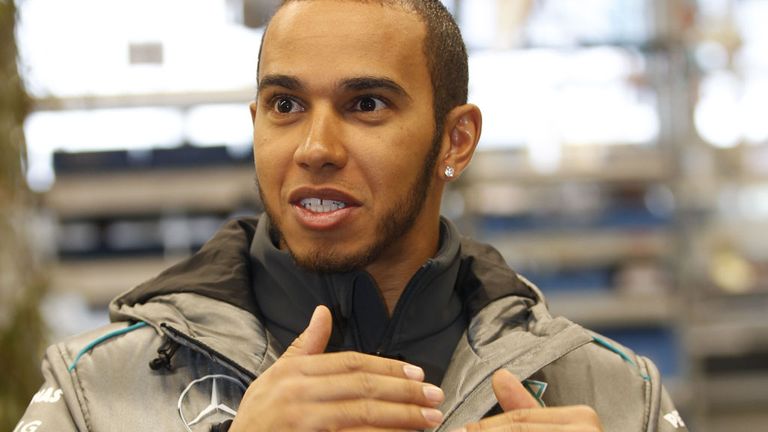 Making his first public appearance in Mercedes colours since his bombshell defection from McLaren towards the end of the 2012 campaign, Hamilton toured the group's Stuttgart headquarters on Monday before insisting that the team, which has won just one race in the last three years, could regularly challenge F1's ruling elite during the upcoming 2013 season.
"I live to win," declared Hamilton in a video released by Mercedes. "That's what I work towards every year. Of course it is going to be tough to beat the guys who are already at the front, like Ferrari and the Red Bulls and the McLarens, but I don't think it will be impossible.
"I think this year will be an interesting year. It will be a journey, learning and getting to know new people - and working with new people is always a massive challenge so first and foremost that will be one of the biggest challenges I'll have.
"After that, it's about trying to succeed with them, trying to extract the most out of them and vice versa. It's going to be a journey we are going to enjoy."
After driving alongside Jenson Button at McLaren for the last three years, Hamilton will be accompanied along that journey by new team-mate Nico Rosberg, a driver the 2008 World Champion is already familiar with.
"We were team-mates many years ago in karting so I've known Nico for many years and I'm really looking forward to working with someone who is a great guy and a great talent," added Hamilton.
Hamilton could soon be joined by McLaren Technical Director Paddy Lowe, with a report in German newspaper Bild suggesting the latter is also heading to Brackley.