New Mercedes boss Toto Wolff plays down reports of Ross Brawn departing the team
New Executive Director responds to ongoing media speculation
By Mike Wise
Last Updated: 24/01/13 4:36pm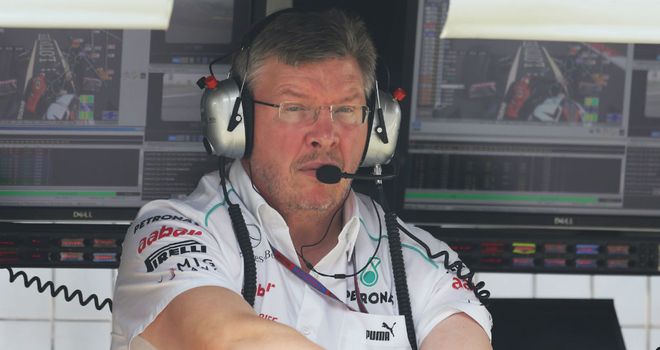 The appointment of the Austrian, formerly executive director at Williams, was only announced on Monday, with Wolff listed alongside Brawn and non-executive chairman Niki Lauda in forming a new management structure.
Since then, however, stories have suggested another radical shake-up at the team could be in the offing.
Germany's Bild has claimed that McLaren Technical Director Paddy Lowe is poised to join the Brackley-based outfit while fresh reports predict Brawn will be eventually be replaced, with both Wolff and Lowe taking the helm.
Speaking in a teleconference on Tuesday, Wolff played down the reports, but stressed that he needed time to fully understand the team's current set-up.
"There is speculation which is coming up in some of the media," the 41-year-old said. "I think I would be aware of that. It's all speculation. Ross is here as part of the leading team and I hope Ross is going to stay."
Wolff said he has yet to visit the team's factory in Brackley and that he plans to speak to all the key members before making any decisions.
"I haven't been in Brackley yet," he said. "I have had conversations with Ross. I admire what Ross has done but I need to understand the structure and what Ross has done.
"At this stage it would be foolish to come in and speak about replacing anybody."
On the reported move for Lowe, he said: "I think he is a recognised person in the paddock who has been with McLaren for 15-20 years. I've read this in the paper, that's all I can tell you. In Formula 1 there's always a lot of speculation about people."
Wolff joins a Mercedes team that ultimately disappointed in 2012, but has made a major statement of intent ahead of the new season with former World Champion Lewis Hamilton leaving McLaren to partner Nico Rosberg.
"I haven't had chance to sit down with them but I hope to do that pretty soon," Wolff said. "I don't know them particularly well as Nico left Williams when I joined. Lewis I've known since his Formula Three days but I've had no close contact. But I'm very happy to have them as they seem very motivated."
Wolff has also bought shares in the Mercedes team but will keep hold of the Williams stake he first acquired in 2009.
"For the moment I'm going to keep those shares," he said. "I have a responsibility as a shareholder. I've got a wonderful opportunity, a once-in-a-lifetime opportunity with Mercedes to be involved on a daily basis but I can't let everybody else down behind me as shareholders.
"I'm going to look at the situation in the next couple of weeks or months."
Asked how he could reconcile his interest in the two teams, Wolff added: "I am working 100 per cent for Mercedes, as a director Mercedes and trying to be successful with Mercedes.
"But I've had a long interest in Williams and you can't kill an emotion just by resigning from a directorship. I'm hoping from a professional standpoint that Mercedes do well and I'm working 24/7 to do that, but if Williams do well I will be happy for Williams."
Meanwhile, Wolff confirmed that Robert Kubica was due to test a Mercedes DTM car in Valencia but said that even if the test went well, it remains too early for the Pole to be considered healthy enough to drive an F1 car.
The 28-year-old suffered severe injuries in a rallying accident in 2011.