Cautious Nico Rosberg insists Mercedes haven't proved they are title contenders yet
Nico betters Lewis Hamilton's winter-topping time on Sunday
By Pete Gill
Last Updated: 04/03/13 10:28am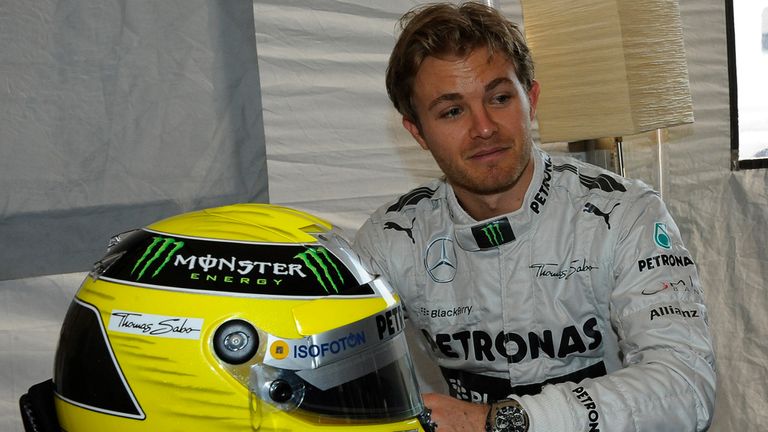 A day after his new team-mate Lewis Hamilton grabbed the overnight headlines by registering the fastest time set this winter at Barcelona, Rosberg went four-tenths quicker at the Circuit de Catalunya in the final test session of the winter on Sunday to round off Mercedes' pre-season preparations in considerable - and very quick - style.
Yet with World Champions Red Bull widely believed to have kept a relatively heavy load of fuel in the RB9 throughout 'the winter season', Rosberg is refusing to get carried away by the W04's impressive turn of speed until it has proved itself in race conditions.
"As we all know, we have to be very careful with the results of testing because you just don't know what other people are doing and we know for a fact that our competitors haven't shown their potential yet. So we need to be very careful," Nico cautioned Sky Sports News.
"What I can say is that we have made progress and I am pleased with how the winter has gone. Everything has gone to plan and the reliability has been sorted out. 'Pleased' is probably the best word, but we need to wait and see for Melbourne.
"For sure, I can see that back in the factory things are working well and everything has come together at testing, but performance-wise we still need to wait for Melbourne to see where we are."
Nevertheless, it seems clear that, having fallen far away from the frontrunners after Rosberg's maiden victory at China last year, Mercedes have made a substantial step forward over the last winter, with Sky Sports F1's Ted Kravitz predicting at least one victory during 2013 for Hamilton following his move from a McLaren team which is apparently struggling with its revolutionary MP4-28.
The team to beat, however, still appears to be Red Bull, with Sky F1 pundit Mark Hughes reckoning that the World Champions currently possess a slight advantage in qualifying trim. In race conditions, as many as five team look to be closely matched at the front, with Sky F1's Damon Hill summarising: "I think there's been a consolidation and a condensing of the pack at the top end - and Mercedes have now thrown their hat into the ring."
Sky F1's Mark Hughes' Testing Pointers
Race Pace:
Red Bull, Mercedes, Lotus as fast as each other in race pace.
McLaren struggling for consistency and with tyre degradation.
Ferrari better than McLaren over a race stint.
Qualifying Pace:
Red Bull running on heavier fuel loads, looking potentially faster by a small margin of about two-tenths of a seconds.
Nothing to choose between Mercedes, Lotus, McLaren, Ferrari.
Top five teams could be separated by as little as two-tenths.
Williams running heavy and potentially the best of the rest.