Lewis Hamilton anticipates a "very tough weekend" for Mercedes in Bahrain
2008 Champion thinks desert heat might expose lack of race pace
By Mike Wise in Manama
Last Updated: 19/04/13 8:58am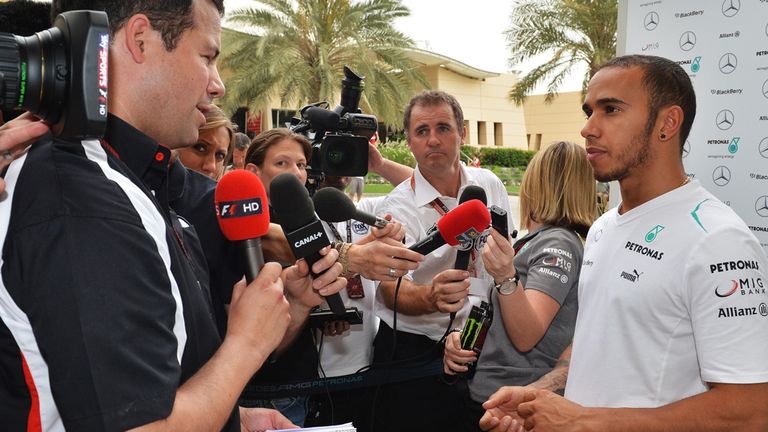 Hamilton claimed his second successive podium finish in Shanghai but only after starting the race from pole position, his first since joining the Brackley team.
He led its early laps but was unable to match the lap times set by winner Fernando Alonso and second-placed Kimi Raikkonen. Hamilton then had a fright during the race's closing moments when he was almost caught by a charging Sebastian Vettel.
The 2008 World Champion was left scratching his head last Sunday as to why his W04 struggled in comparison to Alonso's Ferrari and Raikkonen's Lotus.
With so little time between the races, Hamilton said Mercedes could be found wanting again this weekend - even more so, perhaps, given the impact high temperatures at the desert track will likely have on tyres.
"The car's the same as last week so it should be quite competitive. But the tyres make a big difference so that could play a role," Hamilton said.
"I think that'll be relevant here, definitely. More so here - it's magnified. The race pace and degradation is even worse here than it is in China."
In contrast to Shanghai, the combination of heat and the track layout - which is characterised by straights that lead into slow corners - places a greater strain on a car's rear tyres.
That would have added to Mercedes' woes 12 months ago when their car particularly struggled with rear tyre wear.
Of the challenge ahead, Hamilton said: "It's different. Instead of being the front tyres it's the rear tyres here. I anticipate it's going to be a very tough weekend for us.
"The team struggled a lot last year but we've made a huge step forward in how we look after our tyres, so hopefully we'll be a lot better this weekend."
A challenge all drivers currently face, of course, is how best to manage their tyres during a race weekend.
Hamilton was critical of the soft tyre Pirelli brought with them to China - the performance of which lasted only a few laps - but admitted on Thursday it was a challenge he was happy enough to accept.
"There's a lot of different techniques you can have. As I've said, there's so much to learn - I'm always learning. Just in the last couple of months I've learnt a couple of new techniques which happen to help quite a lot," he said.
"It's a good challenge, even if people perhaps aren't enjoying it.
"I don't find it really difficult. I mean, I do come out of a pit stop and I want to push and go hard to try and gain. But in actual fact, it's better to go a bit slower in those first few laps - which people are starting to notice.
"That's what Kimi and Fernando and Sebastian have been doing, which has meant that their long race pace has been really good.
Hamilton added: "It's still great racing, it's just different."