Lewis Hamilton says he could now form a compatible partnership with Fernando Alonso
2008 World Champion already considering extending Mercedes deal
By Pete Gill
Last Updated: 08/05/13 9:13am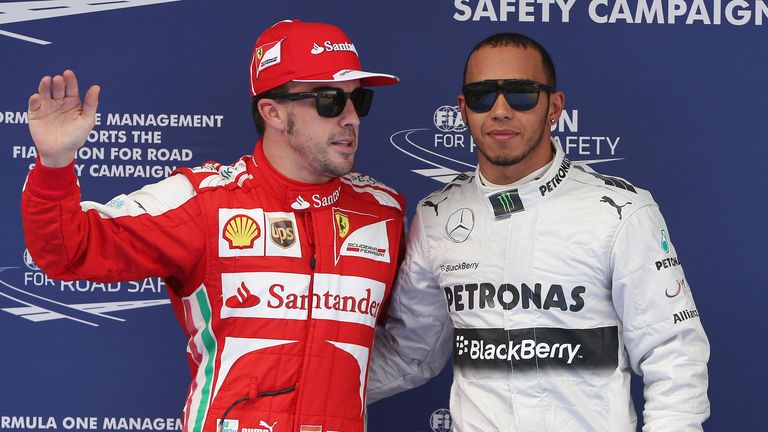 While Hamilton and Alonso have made no secret of their admiration for each other's talent in recent years, the level of bitter rancour their partnership at McLaren descended to in 2007 - culminating in both men losing out on the World Championship to Kimi Raikkonen - has made a reunion seem inconceivable.
But an older and wiser Hamilton, who was embarking on his first season in F1 as an impetuous but unexpectedly-competitive rookie when he drove alongside Alonso, believes that they could now live in harmony under the same roof.
"Now I'm older, I'm sure we would have a different relationship. There would still be intense moments because we are both quick, so we would be very close to each other, but we've both matured a lot.
"I think I'm much better at nurturing relationships between team-mates now. It depends on the drivers," Hamilton told The Daily Mail.
The possibility of Alonso and Hamilton forming a dream team is remote, however.
The Spaniard remains locked into a long-term contract at Ferrari and the Scuderia are reputedly reluctant to pair two superstars together - a reticent which has seen talk of Sebastian Vettel replacing Felipe Massa muted in recent months. Hamilton, meanwhile, is at the start of a three-year deal with Mercedes which he is already considering extending.
"I like longevity and I like loyalty," he declared at a press briefing in London.
"Loyalty is so important. I love the team where I am and I've already thought to myself that I would hope they would want to keep me for longer. That's how happy I am with the team."