Ross Brawn calls on Mercedes to find a cure to tyre-wear handicap after difficult Spanish GP
Hamilton suffers humiliation of being lapped after starting second
By Sky Sports Online
Last Updated: 12/05/13 6:51pm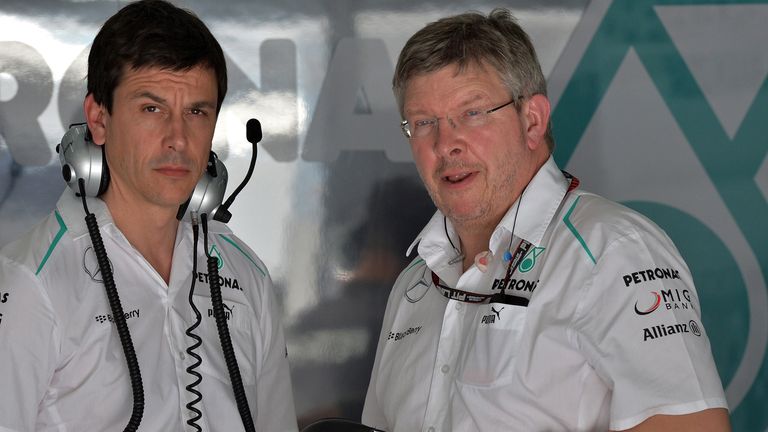 Having proved itself to be the fastest car on the grid in qualifying trim after securing pole position in three of the first five events of the season, Mercedes have registered only two podium finishes so far on race day with their car seemingly far harder on its tyres than any of their rivals'.
The handicap was particularly acute in Barcelona as Lewis Hamilton tumbled through the field from second on the grid to finish outside of the points and a lap down on the victorious Fernando Alonso. With neither Hamilton nor team-mate Nico Rosberg able to offer an explanation as to why Mercedes were unable to sustain a competitive pace, Brawn has issued an urgent call-to-arms to his team in an urgent bid to find a cure.
"We did everything we could from beginning to end to manage the tyres, but we have to got look at how we use tyres in the race and maybe [make] dramatic changes," Brawn told Sky Sports F1. "It's frustrating to have a car which has core pace but when we come to race with it, we are just tip-toeing around on the tyres."
Quoted in Mercedes' own press release, Brawn added: "We endured a very difficult afternoon and the comparison between our competitiveness in qualifying and in the race was particularly disappointing. We must find the key to why we are losing performance on Sunday afternoon and find the right solutions to improve."
The inability of both Mercedes drivers to successfully nurse their tyres - and, with it, their pace - was made all the more apparent by the two W04s starting on the front-row. The contrast between Mercedes' Saturdays - typically very good - and Sundays - worse than bad in both Bahrain and Spain - just couldn't be any more stark.
"It is very clear that we have not yet found the right compromise between our performance on Saturday and Sunday and that we will need a lot of hard work to get it right," added Executive Director Toto Wolff.