Nico Rosberg hints Monaco win would be a 'surprise' despite securing pole position
Mercedes chasing first win of 2013 with their fourth pole of the year
By Pete Gill
Last Updated: 25/05/13 6:23pm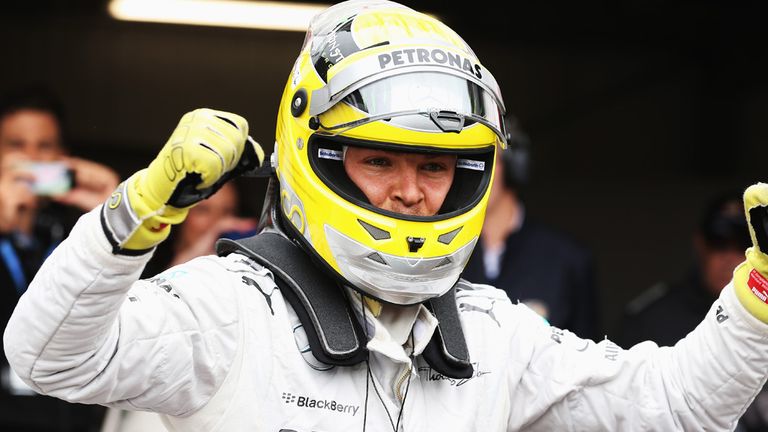 The German will begin Sunday's race heading an all-Mercedes front-row after once again out-pacing Lewis Hamilton, but, perhaps uniquely for a race in which grid position is so critical, Rosberg will not start out as favourite to take the win due to Mercedes' long-standing habit of overheating their rear tyres.
Three times this season a Mercedes car has started on pole, and three times a W04 has gone into spectacular reverse after overworking the ultra-sensitive Pirelli compounds.
Tyre wear is not expected to be as important this Sunday with Pirelli rating Monaco as the least demanding circuit on the calendar. Nonetheless, the twice-bitten Rosberg remains shy of predicting his first win in over a year - and his first at F1's showpiece event.
"It was as recently as two weeks ago [at Barcelona for the Spanish GP] that we were one-and-a-half seconds a lap slower than Fernando Alonso who won the race," Rosberg reflected to Sky Sports F1. "For sure, we've improved things and it will be better here but we still have some way to go and race pace is our difficulty.
"But you never know, there can always be surprises and I hope we can do better than recently and get a good result."
Such has been the scale of Mercedes' race-day shortcomings that Rosberg currently sits a distant ninth in the Drivers' World Championship despite having claimed pole for three of the season's six races and generally holding the upper hand over Hamilton.
Sunday promises to deliver a race of fascination, with Rosberg and Hamilton duelling for the rank of first among equals at Mercedes and the Red Bull pair of Sebastian Vettel and Mark Webber, both of whom will start on the second row, waiting expectantly in the wings.
"It's a long grand prix and we have to be there to capitalise on anyone's mistakes or issues," noted Webber. "If you look at the first few races, this is probably the venue where Mercedes have the best chance of pulling it off [a victory] but it will be no means straightforward. We need to stay on their heels and punish them for any mistakes if they have problems. But we've got to get our own house in order first."
The 2013 Monaco Grand Prix this weekend is live only on Sky Sports F1. Don't miss out, upgrade or subscribe to Sky Sports today or purchase a 24-hour day pass from Now TV