Lewis Hamilton just needs more time to feel comfortable in Mercedes, says Ross Brawn
Hamilton has said he's still getting used to his new team's car
By James Galloway in Monaco
Last Updated: 26/05/13 8:40am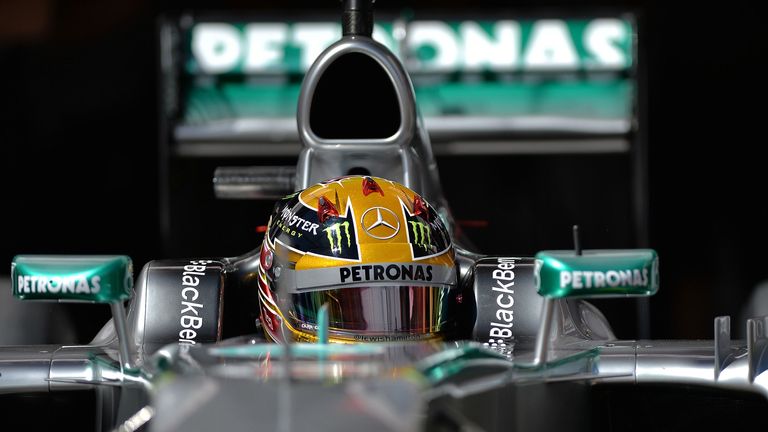 Although Hamilton will start from the frontrow for the third time in his six-race Mercedes career for the Monaco GP, he was once again outpaced by his on-form team-mate Nico Rosberg in Saturday's qualifying hour.
And while ultimately happy with his starting berth, Hamilton conceded that had yet to master his new car.
"To be honest it's been since the first race - actually even in winter testing I was struggling," said Hamilton.
"Even in the first few races, but particularly the last three have been pretty poor, but this weekend was one of the toughest for me so far."
But his team boss Brawn is far from concerned about his star signing's performances, insisting that, nearly six months on from his arrival in Brackley, Hamilton was still acclimatising to his new surroundings - and the team are still learning about him.
"I think it is quite subtle the way the way the driver communicates, how you understand what it is he wants to achieve with the car and how you tune the car to suit his needs," the Mercedes Team Principal told reporters.
"We have a very good group working with Lewis and very experienced people and it is just working out exactly what he needs, what he's looking for. That might vary from what Nico needs or is looking for. They are pretty close in the cars but it will just be time quite frankly. Nico's been with the team four years and he knows exactly what buttons to press within the team and Lewis is developing his understanding of that.
"Who is the person to go to if you want to discuss that? Or who is the person who go to if you want debate some aspect of the car? So it just takes a little bit of time and Lewis is up against a very fierce and talented competitor in Nico."
Having comfortably, and consistently, had the edge over his previous two team-mates at McLaren, Jenson Button and Heikki Kovalainen, for single-lap pace Rosberg is currently presenting the most sustained Saturday challenge to Hamilton since Fernando Alonso in 2007.
And while it's his less heralded driver who is currently taking the pole spoils, Brawn is pleased to see the competitive intra-team rivalry develop and Hamilton express a desire to improve.
"We want the drivers to be as close as they can, we want them to be pushing each other and I don't want to see a driver up here saying he's quite happy being second - that's no good," the Briton insisted.
"We want both our drivers when they're not ahead saying that they've got to improve, they want to find ways of getting more out of the package, more out of the car, more out of themselves and more out of the team. So that's what we want."
Elaborating on his current difficulties in wake of qualifying, Hamilton explained that it was certain features and characteristics of his new car compared to the McLaren that were taking time to adapt to.
"The set-up I have on the car in terms of brake cylinders and all these kind of things, steering wheel is a lot different to what I experienced before where I was very, very comfortable and been there for years so I was used to it and it was always the same. That's been a slight weakness for me this year."
The 2008 title winner admitted he didn't currently have the level of confidence in the W04 needed to really go on the attack around a circuit such as Monaco, adding that unusually for him tyre temperatures had been a problem up until his final Q3 lap.
"It's nothing really to do with the engineers, it's just a general feeling with me. It's difficult to really explain it; I've just not been on it all weekend," Hamilton added. "It's not through not being focused, it's not being centred or anything like that it's just being comfortable in the car.
"When I was at McLaren I'd obviously been there for a long, long time. I had 100% confidence in the car - particularly this track where you need 100% confidence in the car beneath you. It worked well in the past it's just I've been struggling with getting that confidence which means you can't break late enough.
"I think what has really contributed to it is tyre temperatures; I couldn't get enough temperature into the tyres this weekend up until the second and third sector of my last lap and that's the best the car has felt all weekend.
"So perhaps if I'd got them switched on maybe a bit earlier in practice I'd have had a better understanding of how to get them up to temperature. That's the first time I've ever really struggled to get temperature into my tyres and especially with our car."
The 2013 Monaco Grand Prix this weekend is live only on Sky Sports F1. Don't miss out, upgrade or subscribe to Sky Sports today or purchase a 24-hour day pass from Now TV