Lewis Hamilton admits he lacks the confidence to be a late braker in the W04
2008 World Champion still coming to terms with his new car
By Pete Gill
Last Updated: 07/06/13 9:00pm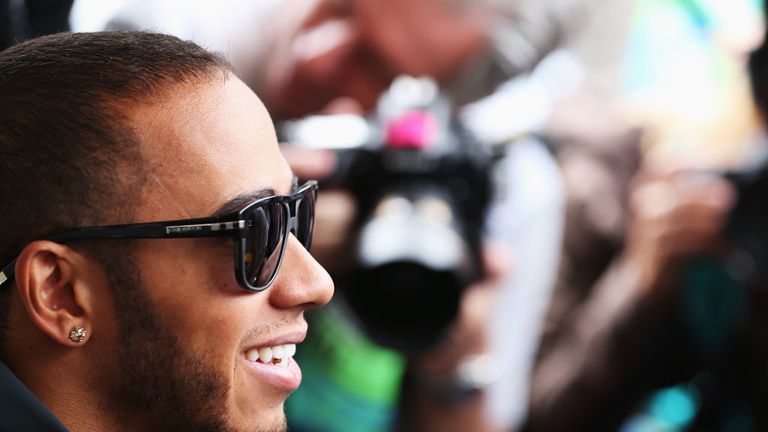 Having had the upper hand over Rosberg in the opening skirmishes of the 2013 season, Hamilton has been consistently out-paced by his Mercedes team-mate over the past month.
In the wake of his third successive qualifying defeat to the pole-sitting Rosberg, the 2008 World Champion admitted to reporters in Monaco that he was experiencing difficulties adjusting to the W04 having previously spent the entirety of his F1 career driving a McLaren. On Thursday, Hamilton was even more forthcoming about his problems when he addressed the press corps in Montreal ahead of this weekend's Canadian GP at a circuit he fears will highlight his current lack of confidence.
"I have always been the latest of brakers and it is definitely a track where late braking helps," Hamilton told the Mail. "But I haven't particularity been the latest of brakers this year in the car that I am in.
"It is an area that I am trying to improve on. I see it being a problem for me for quite some time until I figure it out, which I haven't done yet."
Nonetheless, while Hamilton has concerns about his own performance at the Gilles Villeneuve Circuit, he is expecting his Mercedes team, who have endured and enjoyed the ultimate bittersweet fortnight over the last two weeks with Rosberg's victory in Monaco overshadowed by the Testgate furore, to prosper this weekend.
"I think our car will be great in Canada," declared the former McLaren driver. "It is not that far off the Monaco circuit, with bouncing off the kerbs, so it is a similar type of set-up. Going with the confidence that the team won the last race is a big encouragement.
"It obviously shows we have got great pace, the car is in a great place and we have got potential for more wins. We will be competitive but it is looking after the tyres that will be the issue."
Any sign that Mercedes have finally found a cure for their longstanding habit of over-heating their rear tyres will inevitably be attributed to their participation in the now-infamous three-day tyre test at Barcelona following the Spanish GP.
The team have been summoned to appear at a specially-convened hearing of the FIA International Tribunal and, having driven at the test, Hamilton may be called upon to testify - just as he was in 2007 for McLaren during the the 'Spygate' scandal. It's a prospect he is keen to avoid, however.
"I don't think I'll be required to do that. I've been there, done it before with McLaren, so I don't think I need to be involved in that area," he said.
"I remember going the last time. Although I don't remember much of what exactly happened, I know it wasn't a good period of time. I just remember the good times."